I'm Amy Matteson Neill, artist and founder of Art Fluent. Thank you for taking the time to visit. I'm thrilled we're connected and I'm excited for the journey ahead.
Art Fluent was created to keep the arts alive because ART CHANGES LIVES! With emerging to mid-career artists at the forefront of our mission, we provide opportunities for artists looking to make an impact.
Photography, for me, is where it all started. As a teenager growing up in Massachusetts, I worked as a model and got to know many photographers in the New England area. Being in an artist's loft in the city felt so glamorous. I became inspired to visualize concepts with a creative eye, and I began to see art as a business.
​I enrolled at the School of Museum of Fine Arts in Boston, and I began to spread my wings as an artist. SMFA encourages you to break out of your medium and explore as much as you can. This started my journey into drawing, painting, stained glass, and film, amongst others, and is still with me today.​
Down the road, I soon shifted to arts administration and rolled up my sleeves to be part of the nonprofit world where I worked for over 13 years. My artwork consists of whatever medium I am feeling at the moment. Whether it's photography, mixed media, sculpture, street art, it's always a bit of everything. I create because something has moved me so profoundly to the point that I must find a way to express it, no matter what.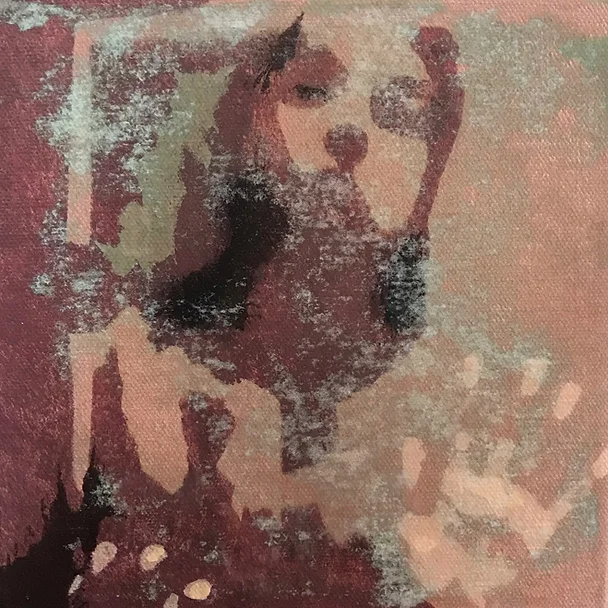 As an artist, I'm aware of the expectations I give myself on what I want my art to say. How I hope it will be perceived. And holding my breath just to make that one line perfect in a piece.
I'm a bit of a binger. Once I get an idea in my head, I must immediately create it and bring it to life. I become obsessed with the thought and the execution, and suddenly hours have passed.
I can relate to the highs of getting accepted to a juried exhibit and proudly adding that show to my CV. And I know the anticipation of waiting to hear results from a juror only to be rejected. Questioning, what the hell did they see in those chosen pieces? And how not mine? ​
My thoughts torture me on the fear of becoming stagnant and how I can maximize my time. Ah, time! TIME!! How can I make an impact on the world? Where is the meaning? And around we go, the all too real self-torture of artmaking, I wouldn't trade it for anything!
My leadership and expertise in the arts range from educational outreach, arts administration, cultural affairs, programming, arts advocacy, and of course, being an artist. I am passionate about empowering artists to find and strengthen their unique creative voices. Supporting the arts and creating artist opportunities remain at the core of my mission.
Art Fluent supports artists worldwide through juried exhibitions and funding opportunities throughout the year.
Our online exhibitions display influential artists from around the world. All of our calls award cash prizes: for any artwork sold, the artist receives 100% of the sale. Our grants are offered on a rolling basis. The grants provide unrestricted funding to an individual artist with recognized artistic excellence in fine art media. Artists retain all rights and ownership of their images.
The arts improve our lives in so many ways, and funding today faces challenges from all sides. A portion of the proceeds from the entry fees is donated to organizations committed to the arts and supporting artists.
For more information on our exhibitions and grant opportunities, check out our Calls for Art page.
And don't forget to view our beautiful exhibits on our Galleries page. We have works of art showcasing artists from dozens of countries worldwide, also looking to make an impact with their artistic voice.