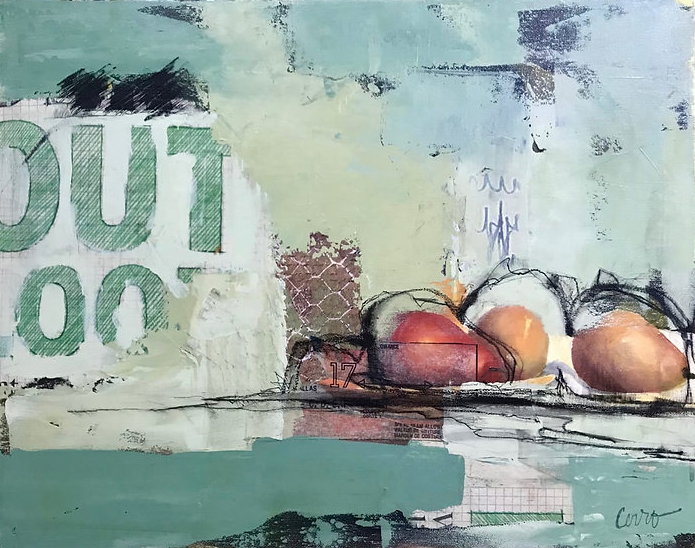 -Denise, we'd love to hear your story and how you got to where you are today, both personally and as an artist.
It may be trite to say...but I had no choice but to be an artist. I colored and drew may way right through childhood, young adulthood and when it came time to get out in the working world, I always seemed to fall into creative careers. My first job(s) were in retail display and visual presentation...back in the day when props and mannequins were a wonderful canvas to create a mood. I loved building and painting props, and dressing the mannequins to tell story. This was a wonderfully creative job, everyday a new story to tell to attract the viewer, much like a painting.
Painting props led me right into my next creative career as a faux and mural painter. Perfect timing as retail was changing and moving away from mannequins and props to folding clothes on tables for display...and about that time faux finishing was having a resurgence in the design world...so I jumped right in! Personally, this was a little scary as a single mother with responsibilities, but I knew I would be able grow as an artist and a business person if I removed the income ceiling a job offered and stepped out on my own. I learned the ins and outs of faux and mural work as I went along, if someone asked me if I could do a project I always said yes, even if I didn't know how to do it I'd figure it out...that's how I grew. I continued this career, hired employees, and painted murals and faux finishes in many custom and high-end homes in San Diego...it was a wonderful career, again something creative and different with every job.
As a self-taught artist, these two careers have brought me to where I am today. Display and visual presentation taught me composition firsthand, learning to place objects on a canvas in a way that draws the viewer in. My love of building and painting props, faux finishes and murals paved the way for me to move from walls to more manageable surfaces like canvas. I often explore using faux finish techniques, like Venetian plaster and paint glazes, in my work on canvas and cradle boards.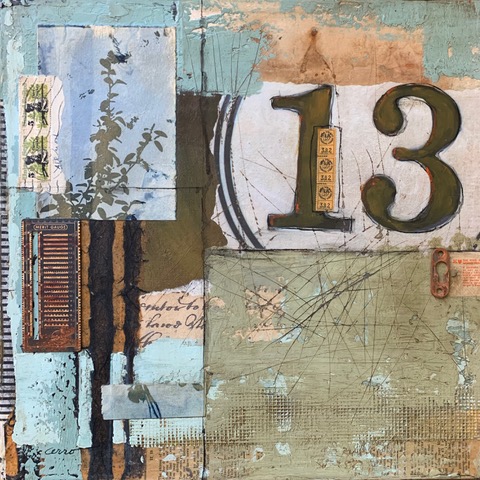 -How do you translate your artistic style?​
My artistic style seems to morph every now and again...I like changing it up. Originally I was a representational oil painter, then went to the abstract side of art and now have settled somewhere in the middle with mixed media, where I can play with many different mediums. I do gravitate towards themes of home and nature with bits and
pieces of the past with remnants from my vintage or art stash added in. My work is most often a warm palette with suggestions of beauty and the comforts of home.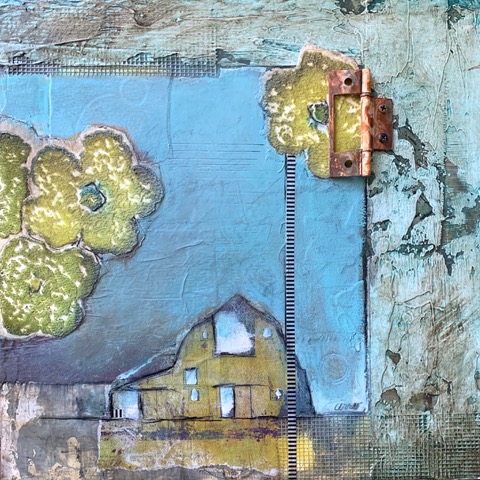 -Any artist would tell you that their artwork is their voice. What did it take to find your voice as an artist?
To be honest, once I started paying attention to what I enjoyed painting, it came pretty easy! I paint what I love around me...flowers, nature, home...in whatever medium that shows up. Sometimes it's abstracted, other times very clear what I'm painting...it even shows up in my assemblage artwork. I think finding your own artistic voice is by quieting all the voices and artwork of others around you...and listening to what really feels good to you, what makes you head into the studio excited about what you're working on...for me it is that simple.
-What is something you haven't yet achieved in your art?
Consistency! I'm still deciding if that is a good or a bad thing for me though. As I said earlier, I do like to change things up. I see many artists that have a distinct style, color palettes, subjects...and I wonder if I should be doing that too. Just as I'm thinking those thoughts, I head off to explore a new idea that may be completely different from the paintings I just finished. For me, change is good...and that feels right.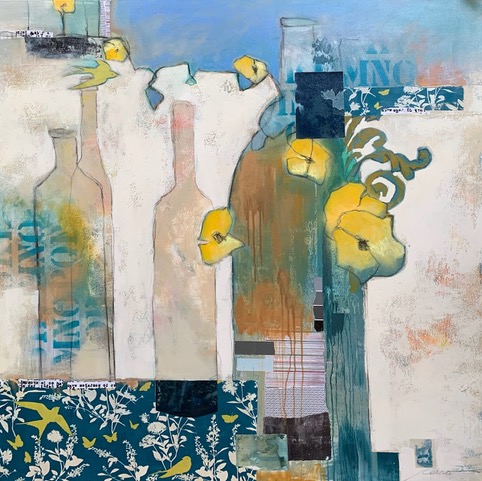 -What's the best way for someone to check out your work and provide support?
My artwork can be found online on my website at DeniseCerroStudio.com I'm also a founding member of a group of five artists and my work can be viewed at our F1VEart Studio & Gallery in the Arts District at Liberty Station in San Diego, I can be contacted for a tour of our studio and my work at ...cerropaint@mac.com
F1VEart Studio & Gallery
Arts District at Liberty Station
Barracks 16 / Studio 206
2730 Historic Decatur Road
San Diego, CA 92106
It's been suggested that...I'm a bit of a paper hoarder!
I wake up most mornings and head off to my studio with papers in one hand, paint in the other and something in my mind I can't wait to get onto a canvas...the days adventure starts from there. Often using cast off papers and substrates as my favorite mediums to work with, I'm always surprised at what people toss away.  I feel like I'm saving valuable resources while creating something of beauty with them in the process.
There are so many wonderful avenues to take in art...I love the exploration!  Whether I'm standing in front of my easel or a classroom full of students, it's what keeps me excited about this expressive journey...it's ever changing, aways adventurous and completely delightful.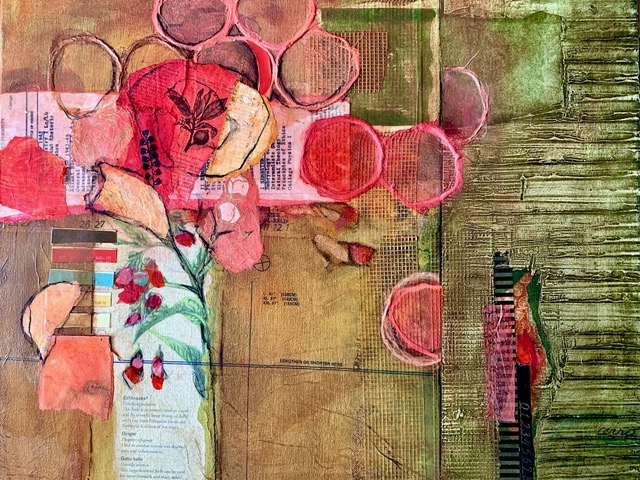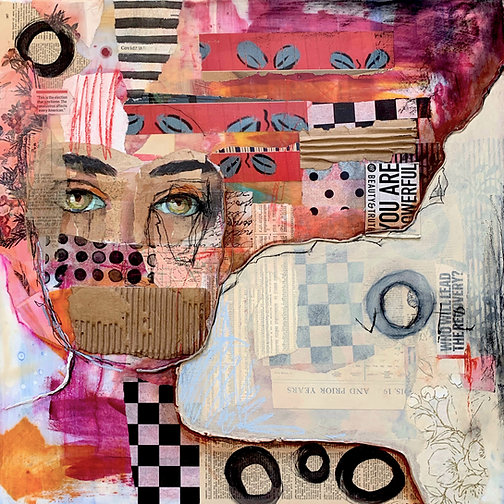 Denise Cerro is a San Diego artist who has had a life full of creative adventures!  Always interested in art as a young person, Denise's professional background includes lengthy innovative careers in both Visual Presentation and as a faux finish and mural artist. Mural work eventually led her to painting on canvas while her visual merchandising eye for design stirred an interest towards mixed media, assemblage art and blending a wide variety of mediums.
Denise is a founding member of the F1VEart group in San Diego and shares F1VEart Studio and Gallery in the Liberty Station Arts District of San Diego.
​