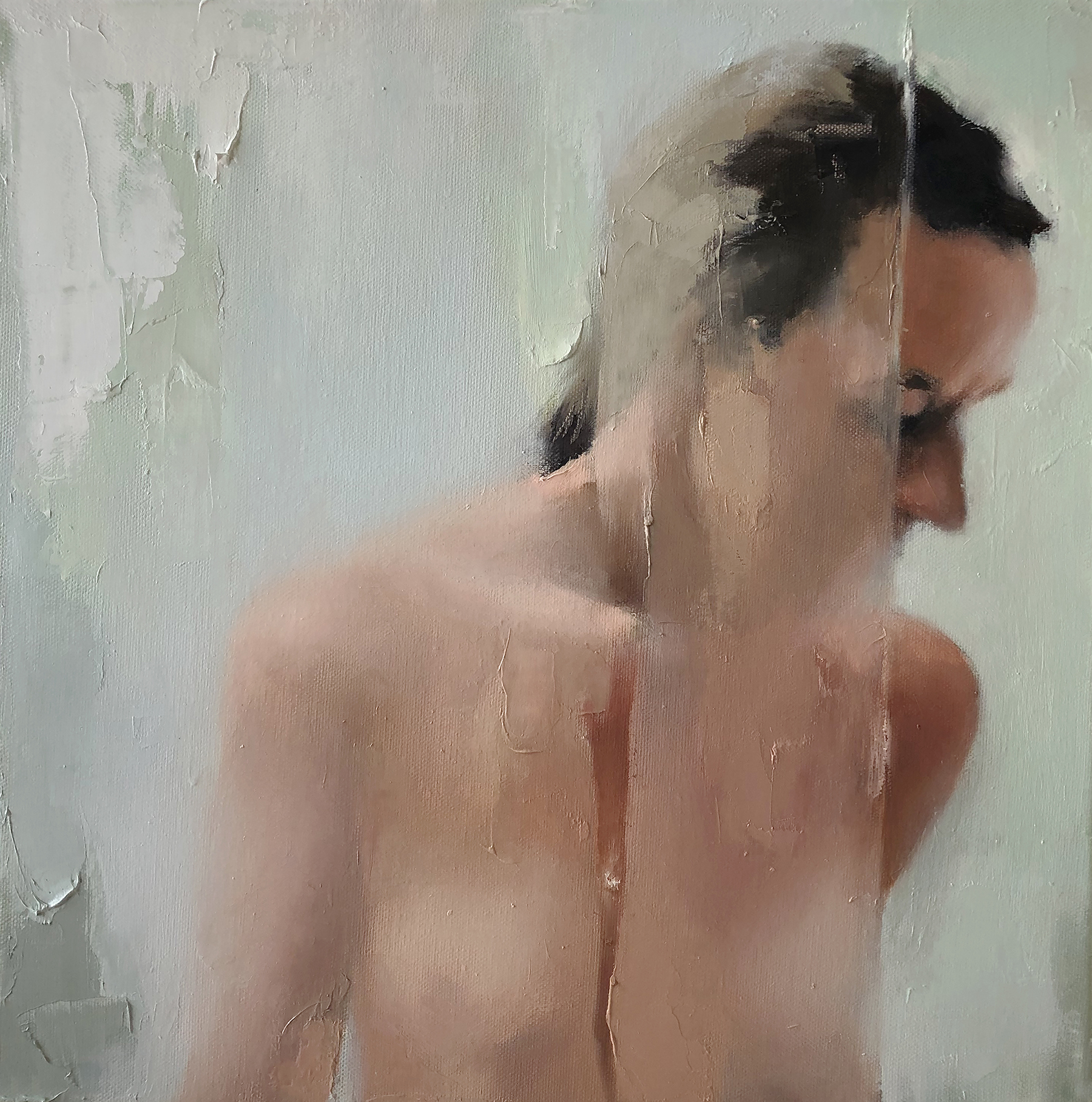 -Lydia, we look forward to getting to know you and how you got to where you are today both personally and as an artist.
I have been lucky to be surrounded by wonderful mentors my whole life. My mom is an incredible artist and taught me how to draw as a kid. I would spend all weekend copying the brides in bridal magazines and she would always offer a genuine critique of my "work"; it not only made me better but also got me used to receiving feedback openly. I still rely heavily on her honest thoughts on my works in progress.
I had some really amazing art teachers in middle and high school who pushed me to create a portfolio and consider a degree in art. As an art major at Skidmore College, I stumbled into courses in oil and paint and graphic design and fell in love. Today I am working as Design Manager at Perigold (part of Wayfair) and am carving out time to paint on nights and weekends. Though it's admittedly a challenge to maintain both, I find that the compositions and depth I can achieve in oil paint inform my design work; and the considered use of space within graphic design informs my paintings.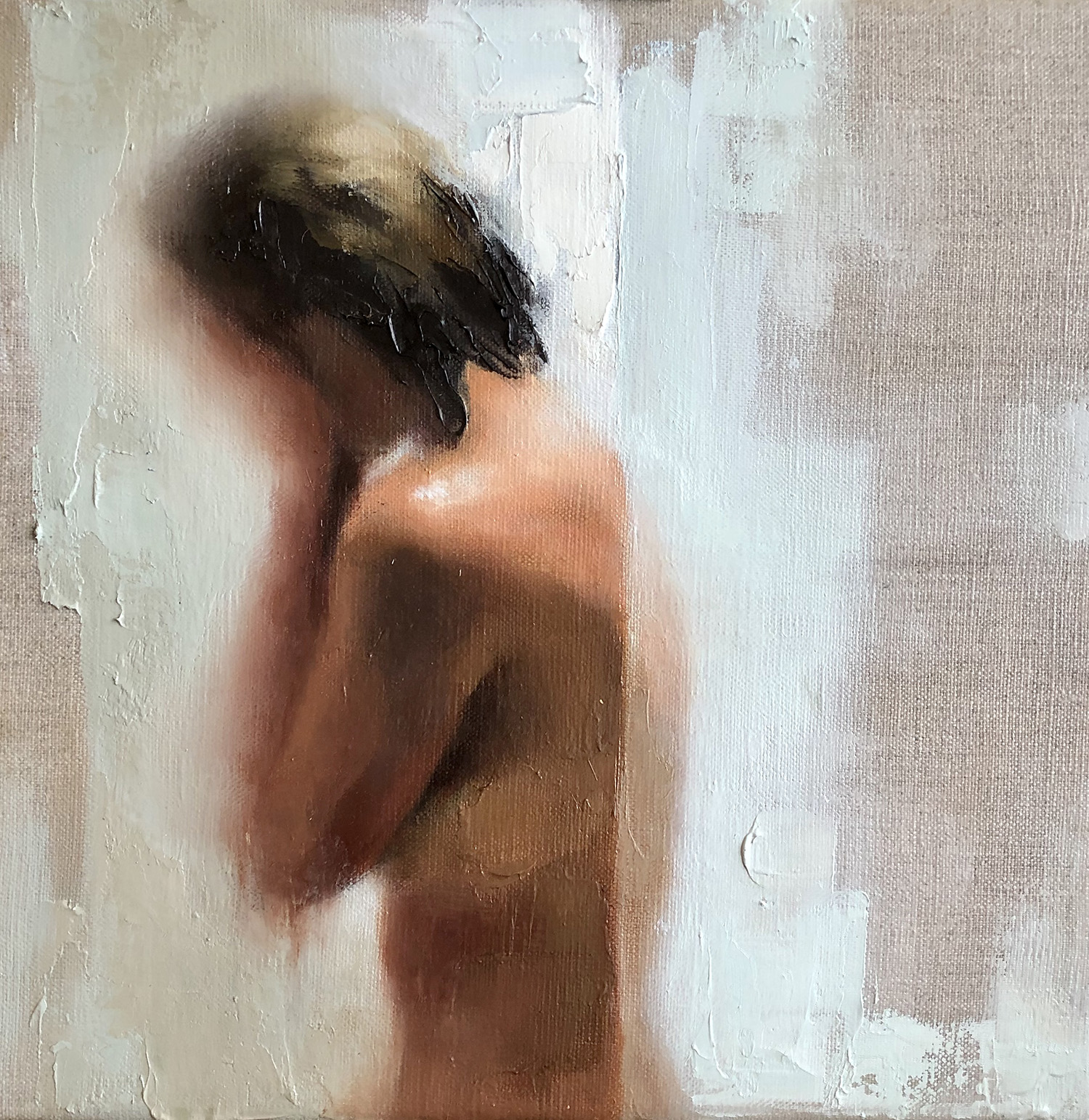 -What makes your process unique?
I think the relationship of the figure to the background makes my work and process a bit unique. I paint the background over the figure and vice versa again and again as a painting develops, smearing the background into the figure and identifying the areas that are naturally showing themselves as possibilities for "harder" edges. 
I focus a lot on accurately rendering the figure at the beginning of my process (even though I'll end up heavily distorting parts of it later). If anything is out of proportion, the viewer can pick up on that immediately and the intention of the painting is lost. Once I feel confident with my drawing, my process becomes looser as I go in with a palette knife to define an area of focus or blend the skin tones into the background to lose some edges completely.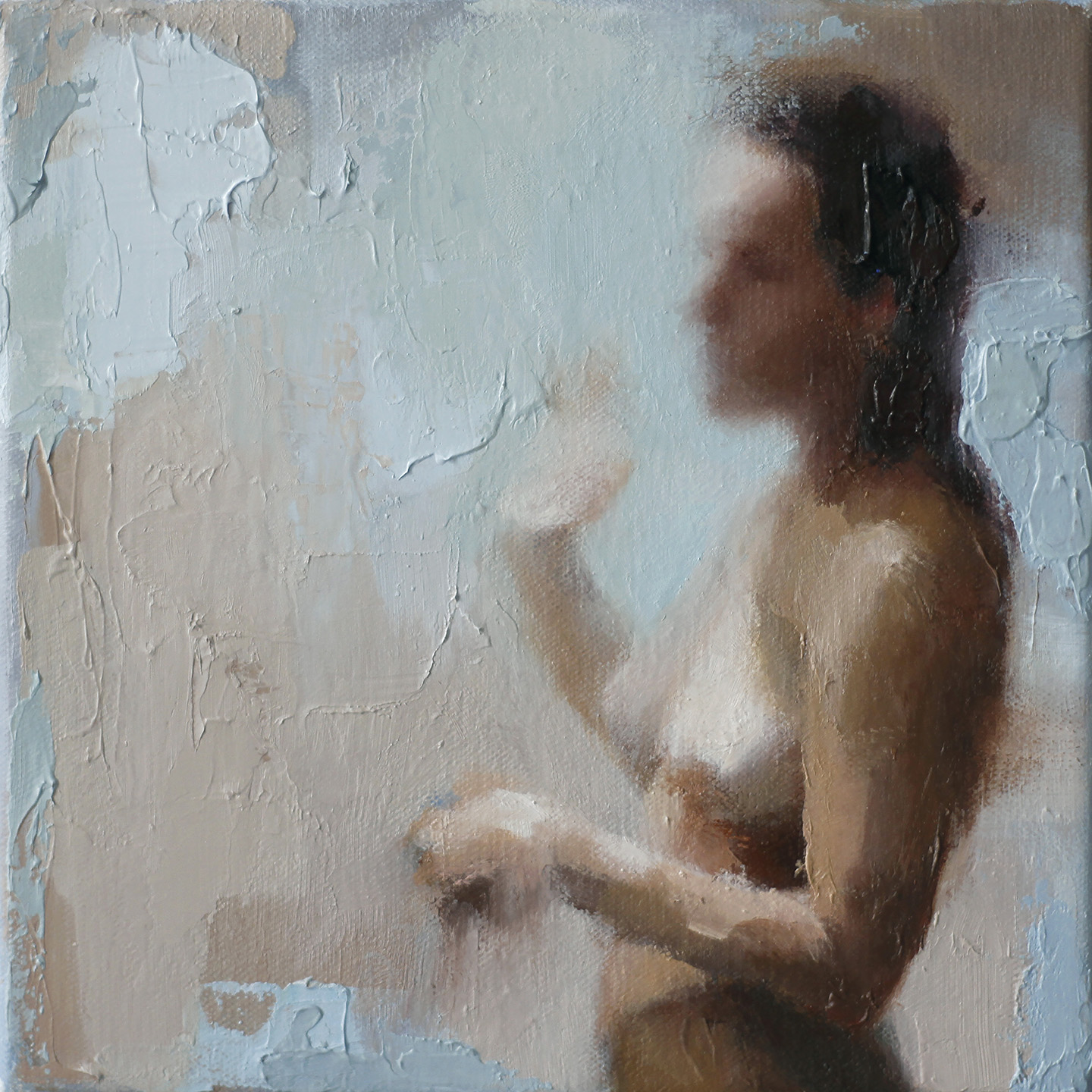 -What is something you haven't yet achieved in your art?
I am forever trying to achieve the right balance of texture, rendering and abstraction in my work. Some of my pieces do it more successfully than others, but I never feel like I've truly nailed it. 
I'm in pursuit of a technique "recipe" that is representational, yet transcends into abstraction. I intend my paintings to have multiple dimensions: the figure behind glass, the steam that distorts the shapes, and the texture on top of the canvas itself give an effect that I love. However, finding this balance is a feeling for me rather than a defined process, so the right mix is always something I'm looking to achieve.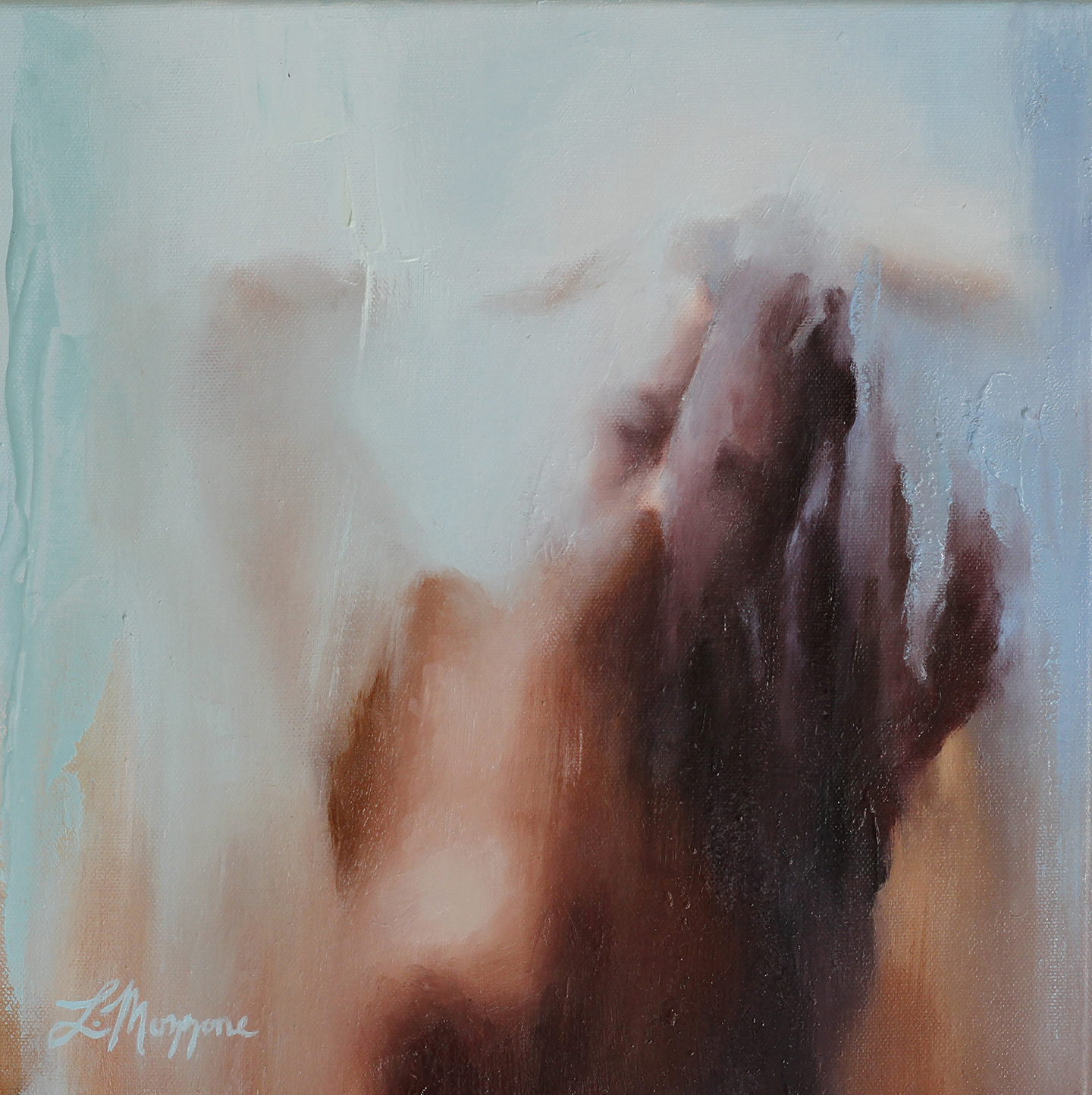 -As an artist, how do you define success? 
Success is such a relative term, but especially in art. I'd imagine that even if I were making a living on my work alone, I still wouldn't feel "successful." As artists, our work is always evolving with subjective benchmarks for what a "good" painting looks like. Having shows or selling a piece may feel good and will boost confidence, but those feelings can be fleeting.
Success, then, has to be personal. I learn something in each painting I do and bring that "something" into the next painting. It's truly a balance of implementing tools I've learned and taking enough risks so that the final product feels fresh and maybe even surprises me a bit. If I can look back at a piece and see that the chances I took and the process I implemented made that work jive in all the right ways, I consider that a successful painting.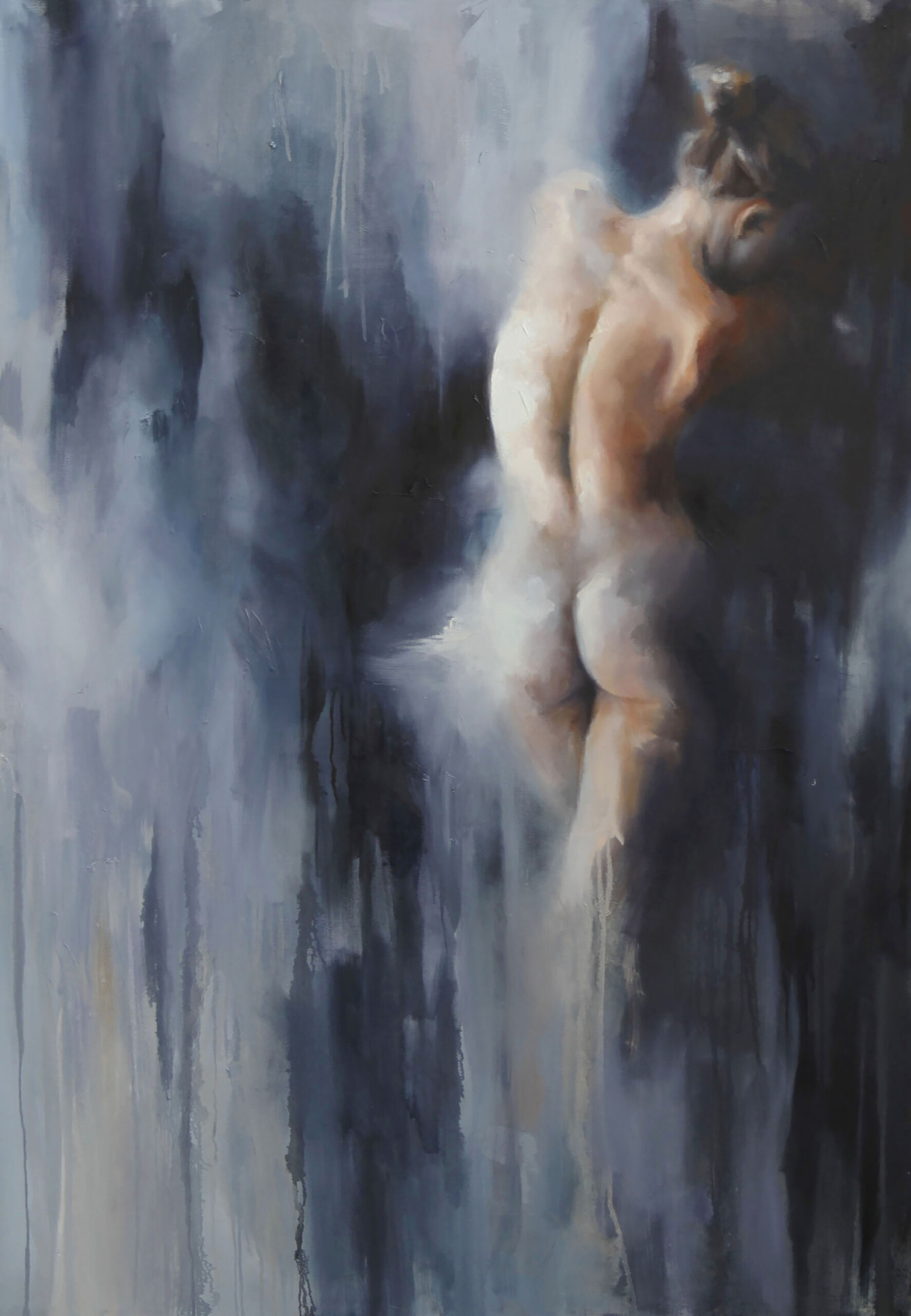 -Who are your favorite artists?
Since college, I've been looking at Lucian Freud, Jenny Saville, and Alex Kanevsky. Alex's work was the first time I had ever seen an artist distort the figure using the background in such a compelling way. 
Instagram has also become such an amazing source of inspiration. I discovered Hannah Bureau's landscapes on a local gallery's handle, and I find myself going back to her work for her palette and use of soft and hard edges. Other artists I'm loving include Irnya Yermolova, Kevin Moore, and Carlos San Milan.
​
-What's the best way for someone to check out your work and provide support?
I can be reached through my site at lydiamozzone.com or on Instagram @lydiamozzone. 
In my work, I am depicting exposure using the body and its relationship with space.
I am interested in capturing the female at a raw moment of self-reflection. When we are alone with our naked bodies, we are at our most exposed state. The nude is not aware of the viewer's presence and we see the figure as she experiences a very intimate and vulnerable moment in the shower.
I choose to paint the female body in an active space. It contorts, crowds, accentuates, and conceals portions of the naked form. The background obscures and affects the figure to reference the exterior pressures and expectations felt by the modern woman. The identities of the figures are obscured because I am referencing the female gender rather than a specific type of woman.
I intend the figures to be rendered in a beautiful and classically inspired way. However, the imposing backgrounds, the texture and the masking and reemerging of forms commence dialogue of modern society's ideal female figure and the ways in which it affects the contemporary woman's psyche.
​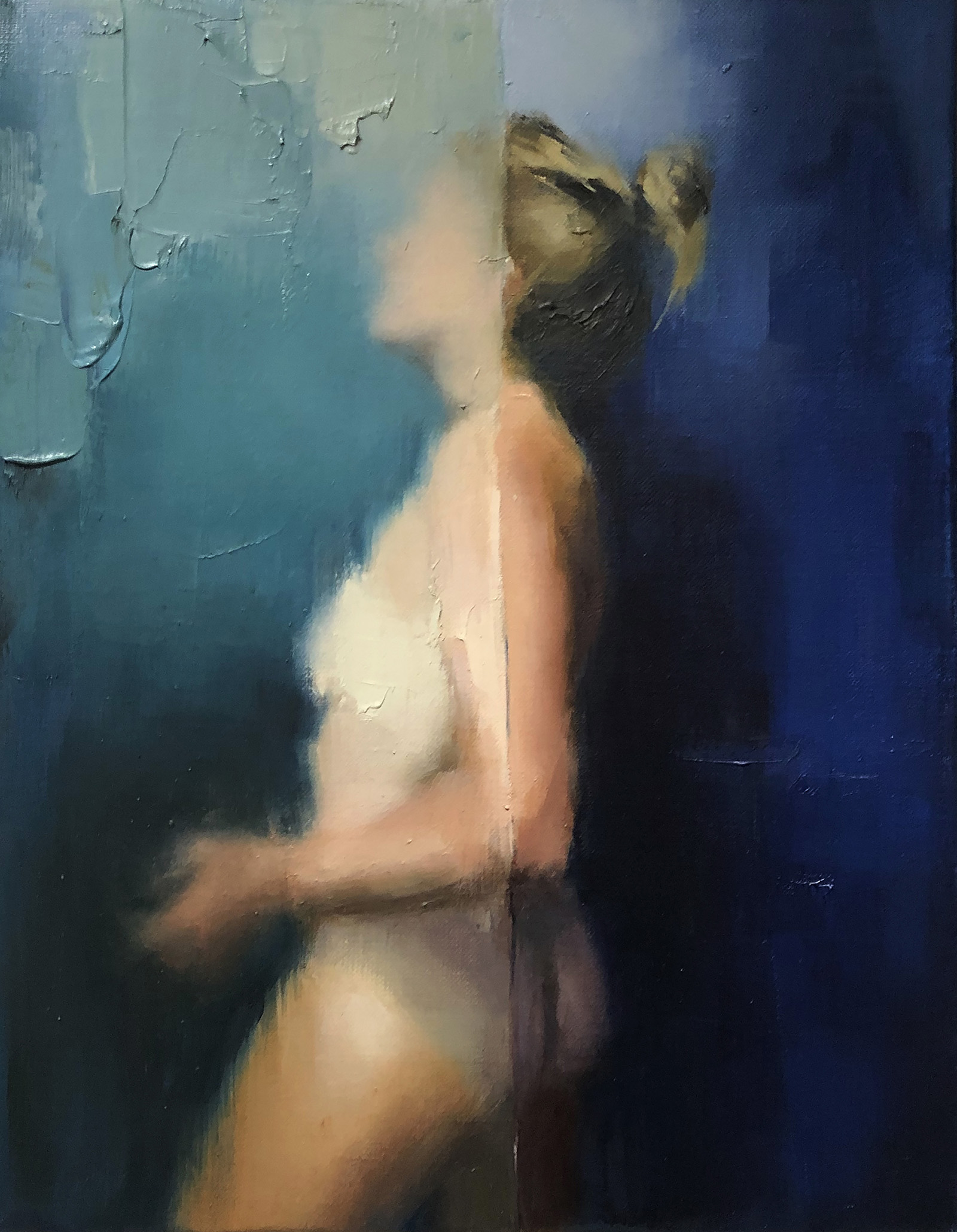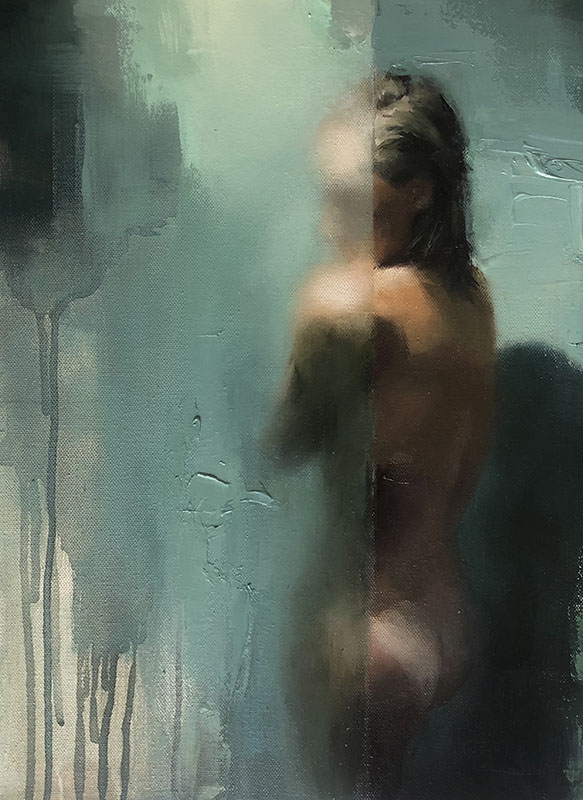 Lydia Mozzone is best known for her atmospheric renderings of the female form in oil paint. She began her series of figurative works while studying oil painting at Skidmore College. In search of a way to depict the complex, emotional relationship she maintained with her own body, she began photographing her four (very supportive) college roommates through a foggy glass shower. As these images transformed into paintings, she fell in love with the ways she could use the glass and water vapor as mechanisms to distort the figure. Lydia's work continues to explore facets of female body image with the play of focused, layered areas against masked, obscured passages.
Lydia's work has been exhibited at the Connecticut Academy of Fine Arts, the Lore Degenstein Gallery in Selinsgrove, PA, and in a two-person show at the Cape Cod Cultural Center, South Yarmouth, MA alongside her mother, Michele Poirier-Mozzone. Lydia was named one of ten "Artists to Watch" by Boston Accent Lit in 2018.
Lydia is currently living and painting in her apartment in Boston's North End.
​