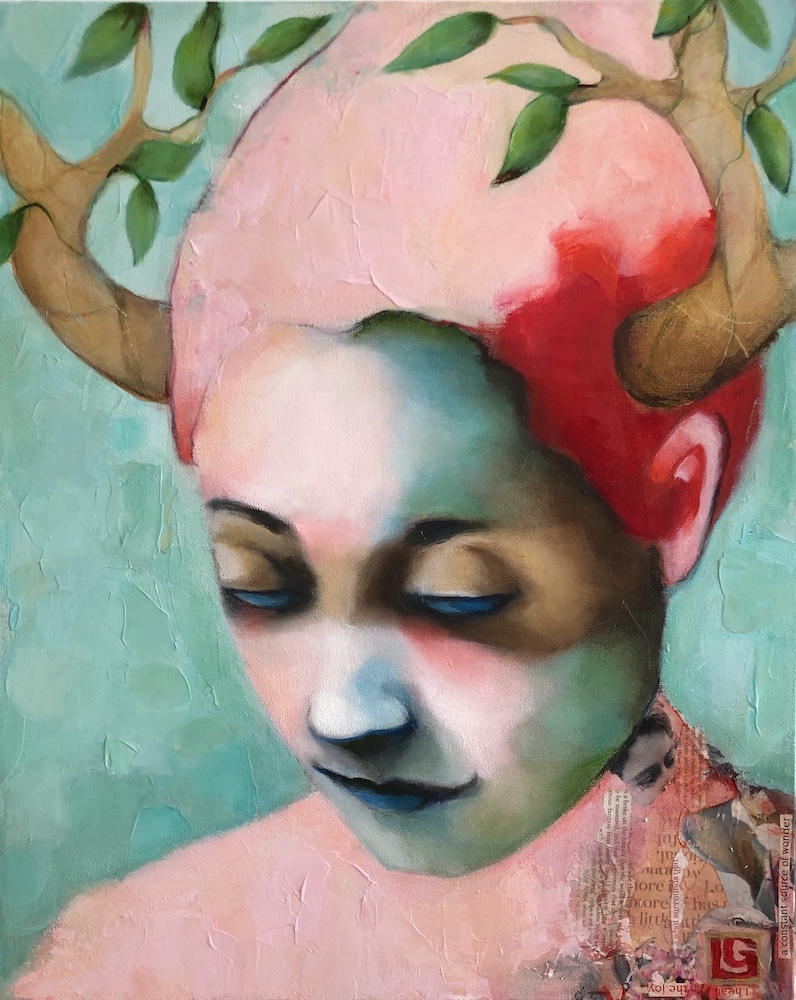 -Lynne, we'd love to hear your story and how you got to where you are today, both personally and as an artist.
I have painted and created art since childhood, drawing faces and bodies. Although I minored in Fine Arts at university, I never dived fully into painting until recently, when I stopped my teaching and writing careers. The last six years have been incredibly rewarding, as I delve into creating original pieces.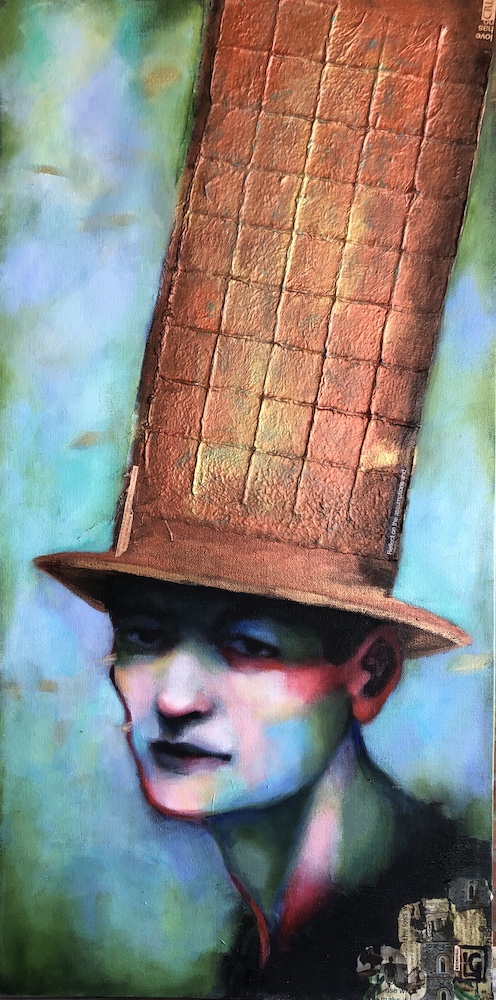 -What makes your process unique?
When I returned to painting, I had to find my original voice. A quotation from David Bowie, helped: "Never play to the gallery. . . It's terribly dangerous for an artist to fulfill other people's expectations — they generally produce their worst work when they do that."
So I just started painting for myself with no concerns about audience. I also made sure that I used only original reference photos and concepts. I had been intrigued by the idea of people wearing impossibly tall hats ever since my university days, so I made a deep dive onto that concept, with the hats representing something intrinsic about the person.
For instance, "Imaginary Wars of a Solemn Man" depicts a man with a burning hat. I used handmade paper, threads, and gold and silver leaf to add texture and dimensions to the flames. To me, the painting is about how so many people battle childhood insecurities, and replay those events in their minds rather than finding a peaceful resolution. Often the faces of those hat-wearing people is from my imagination.
I also incorporate mixed media — words and images into many of my paintings. The images are often glimpses of my previous artworks or photos I've taken, and the words represent my thoughts as I created the piece.
I started adding collaged horns and antlers to my figures almost by accident. I was painting a buffalo head when I decided to add collaged images and words to his horns. From there, the idea of horns on humans emerged. Using collage helps me add depth and meaning to my work.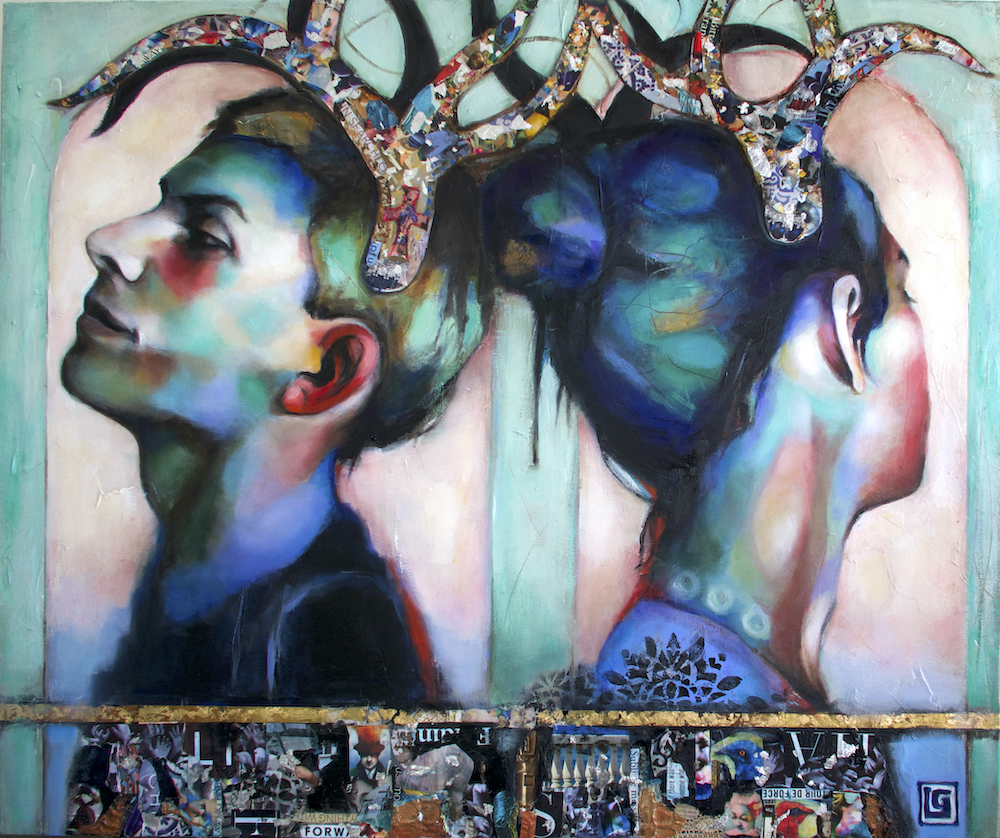 -As artists, we have all gone through waves of creative blocks. How have they appeared for you, and how have you moved past them?
When I first returned to painting full time, I was filled with insecurities. Will others like my work? Am I any good? But as I mentioned above, when I silenced the inner critic and stopped trying to please others, my passion for painting emerged. I was creating for myself, and if others connected to the work, fantastic! But the audience became very secondary. Of course, everyone wants their art to be pleasing, but it never bothers me if someone doesn't like or understand my work.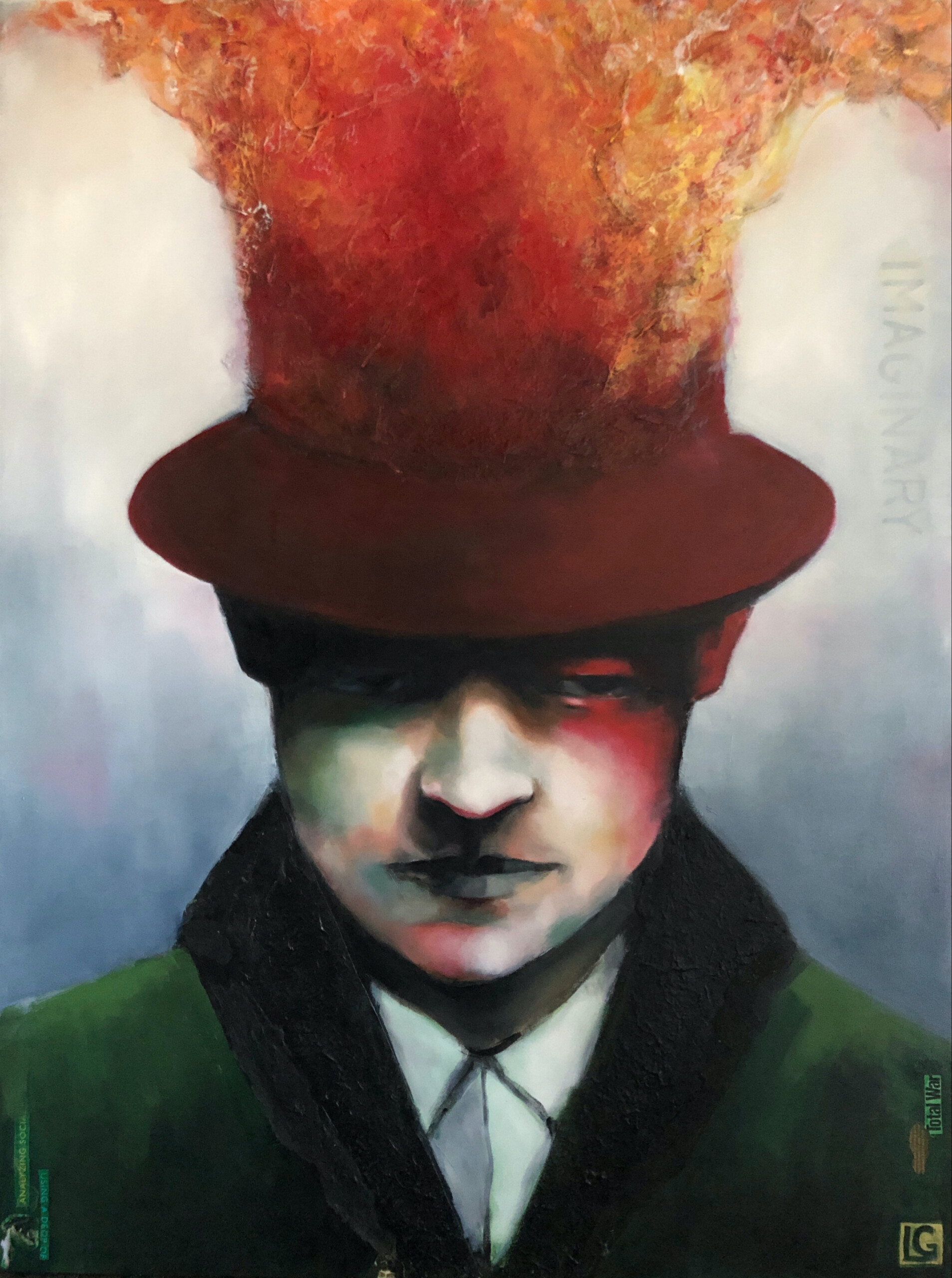 -Is there a message or inspiration that you hope others will take away from your work?
I hope that other artists will paint what they love, and have fun with the process.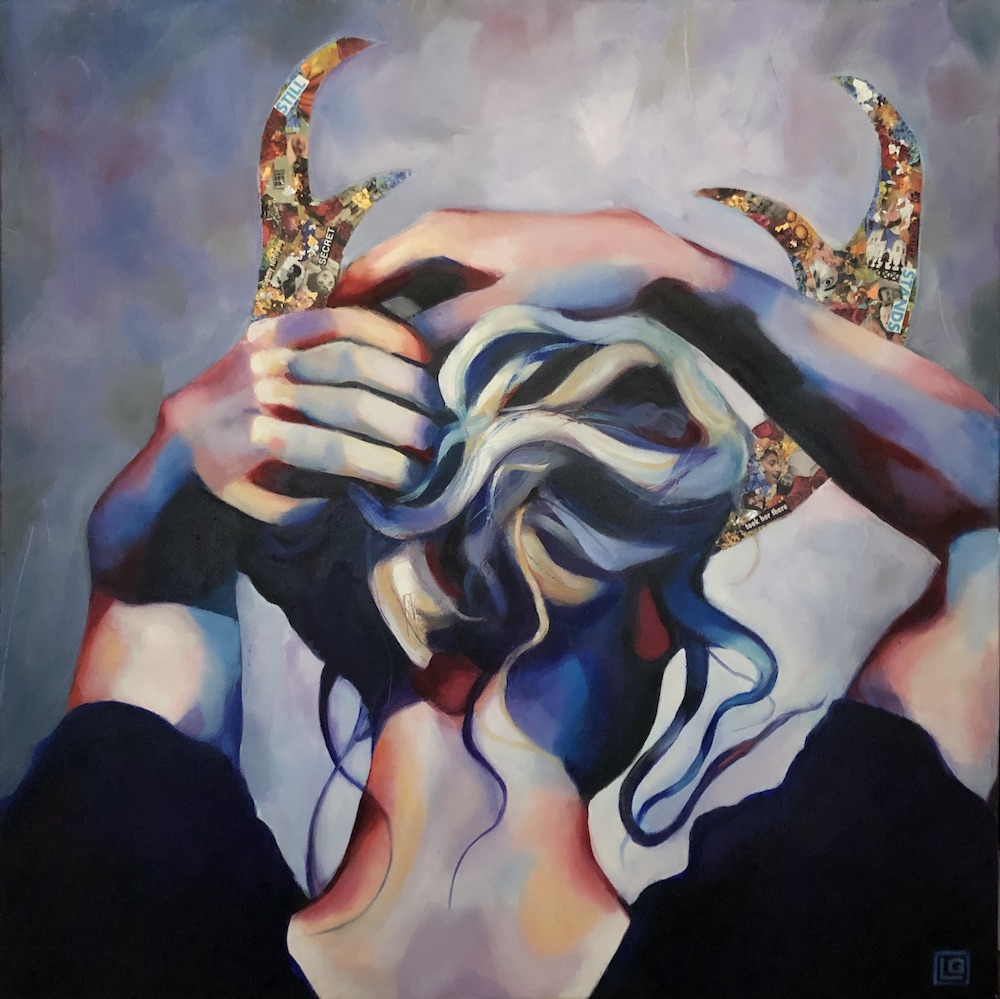 -What's the best way for someone to check out your work and provide support
People can follow my instagram account @lgaetz.art or check out my website www.lgaetz.com.
In my figurative paintings, I sometimes work from photographs, but often an idea arises while I am doing the acrylic underpainting. My decision to integrate mixed media into the work began by accident. About two years ago, while painting a falling buffalo, I spontaneously decided to adhere torn images and gold leaf to the horns.
Since then, I have added mystical and surreal elements to my figurative work, incorporating horns, antlers, and tree branches to the heads of figures. I also may include collage in their bodies. There are also words and bits of text integrated into many of the paintings.
I am often asked, "Why do the figures have horns or antlers?" Each piece has an overall mood or emotion or underlying tension. The horns or antlers may represent strength, fertility, sexuality, creativity, and a connection with nature and our animal instincts. But I invite you to view the pieces and come to your own conclusions. What do the words and messages suggest? What overall feeling does the work inspire in you?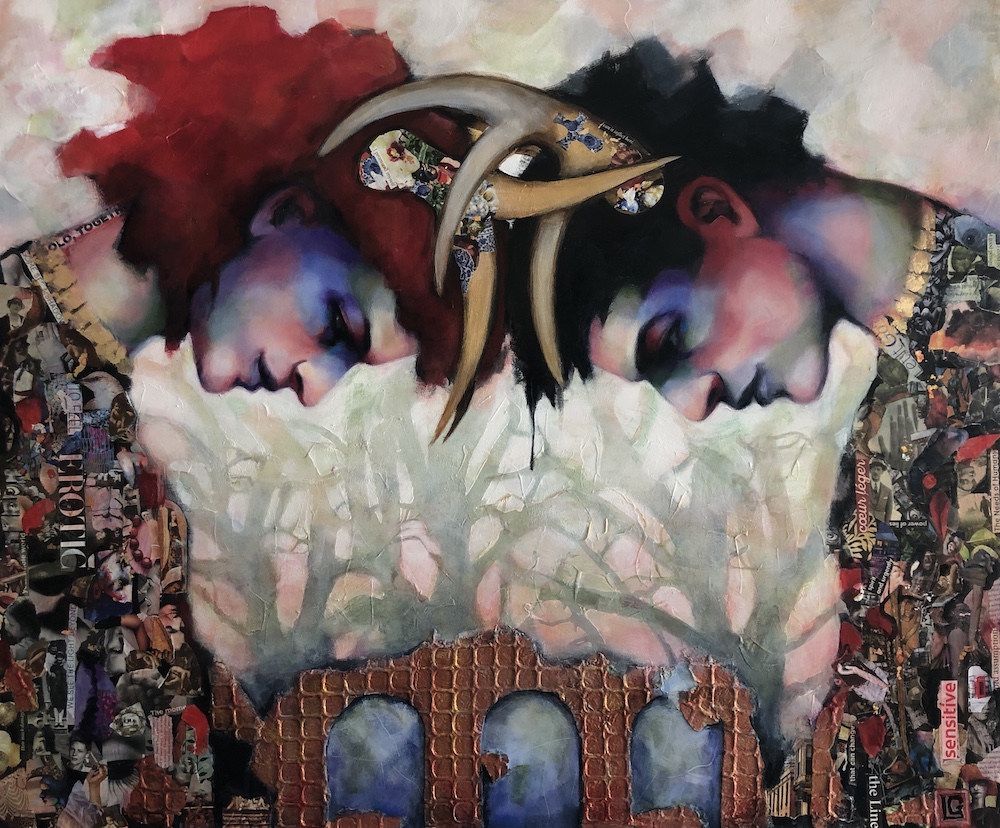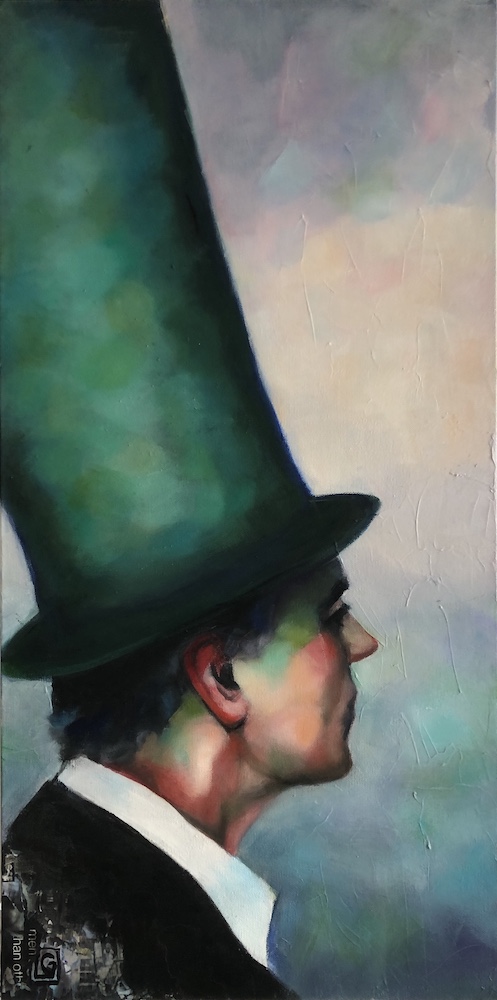 Lynne Gaetz is a visual artist based in Niagara on the Lake, Ontario. Born in Calgary, Alberta, Lynne has spent most of her adult life living and working in and around Montreal. In 2021, she moved to the Niagara region.
Originally an oil painter, she has begun integrating mixed media, words, gold and silver leaf, and even pieces of wood and stone in her work. Her figurative paintings have surreal and mystical elements, and feature people with horns, antlers, and extremely tall hats. Additionally, she creates fantasy landscapes with collage, and she occasionally creates abstract works.
Many different elements have contributed to her artistic direction: She has studied art at universities in Calgary, Quebec City, Montreal, and India. Additionally, her travels to places such as Mexico, Turkey, Kenya, Morocco, and Chile have influenced her colour palette.
She continues to learn, taking workshops, conversing with other artists, and challenging herself to risk new directions. She has exhibited in galleries in Alberta, Quebec, and Ontario, and her work is in several private collections.
​