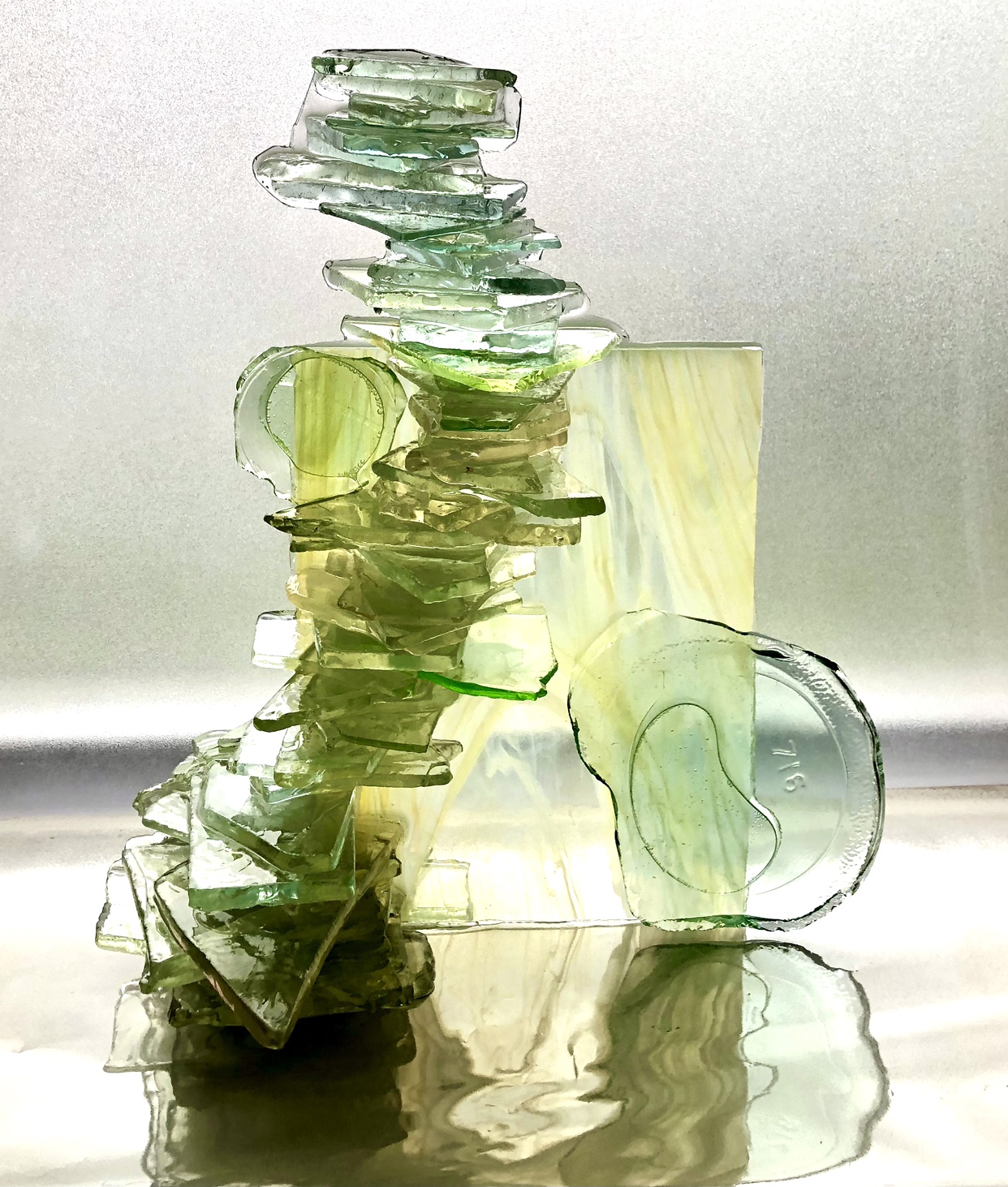 -Jean and Nancy, we'd love to hear your story and how you got to where you are today, both personally and as an artist.

The story of Nancy and Jean and Resurrect Studio came about humbly like a day in the life of frog and toad.  We both were working in the 2-D medium of stained glass, as well as in watercolors and oils. A weekly walk to a landfill beach in Brooklyn where we'd pick up littered glass fragments initially in service to others lent itself to a new kind of art-making dependent on the tide.  Jean's "mind's eye" was skilled in the art of scavenging especially mother nature's gifts like rocks, wood and shells, but presented here was the question of total garbage, and was it possible to convey to others the inspiration that we felt from stooping to pick up these shards?  Everything in the universe rises up to support the power of intention when approached with a heart full of gratitude.
The pieces collectively tell a story of hope and inspiration, of sacred and profane. With utterly no idea why we were collecting pieces, the landfill became our shopping center, a veritable trove of indigenous gemstones.  We began integrating these pieces into our 2-D works when one day Nancy stood the glass upright creating a sculpture.  Layers came to life like 3D watercolors.  The effect has a mind of it's own, like watercolor pigments blending, drying and mineralizing on paper. One can't take credit for it; it happens on it's own.  The dripping of resin onto the glass similarly adds this unpredictability of melds, with random little bubbly rivers that stop moving and dry up at will.  Part of our ongoing learning process is to honor the process and not let the ego get invested in the product.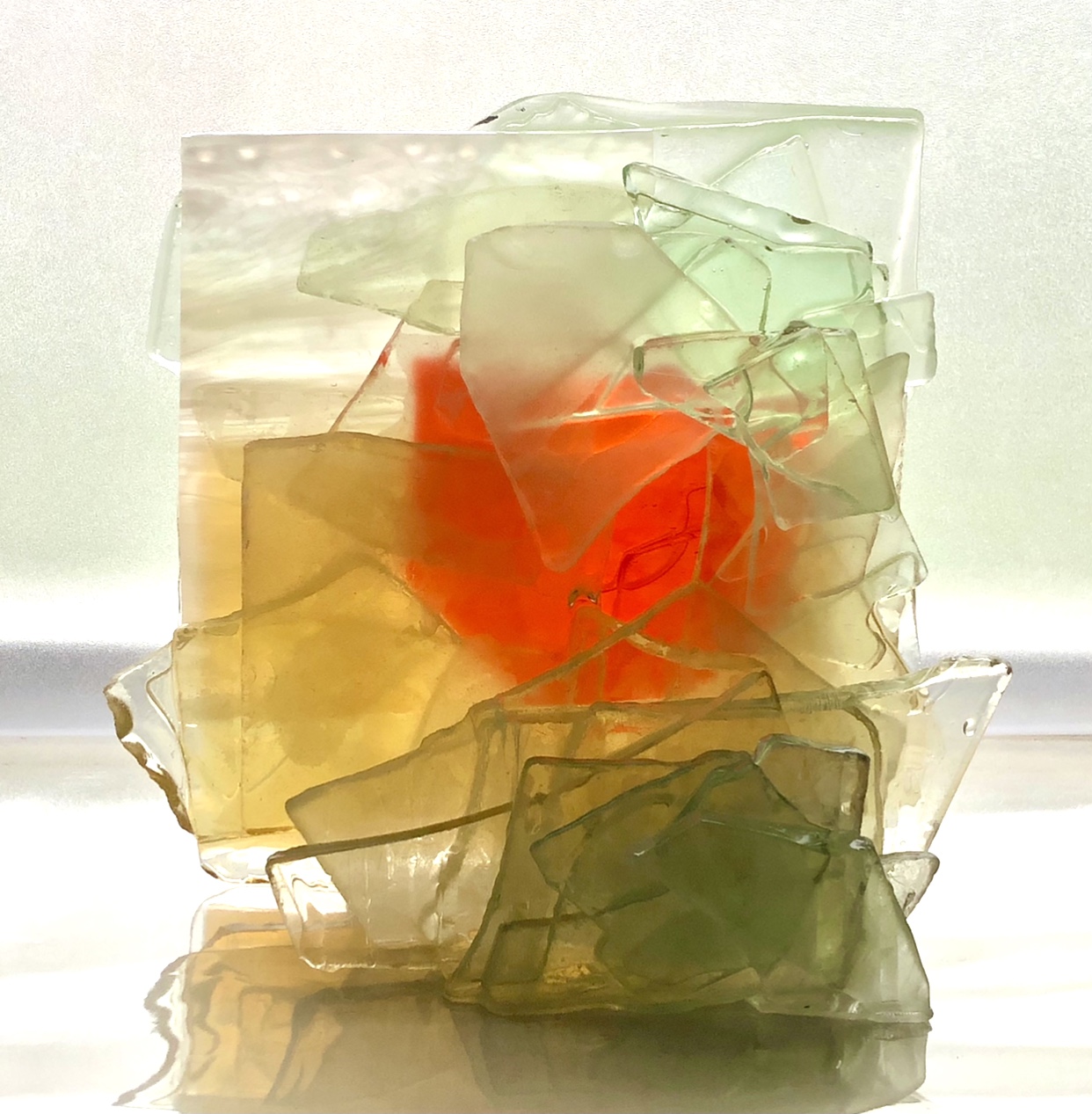 -What does it mean for you to push beyond your comfort zone?

We push and help each other with constructive criticism when we work side by side.  Music and dance have a social component in that each can be done independently or collectively.  Although there certainly are examples of visual artists working together, working as a pair has total benefits as well as hurdles along the way.  We each have our share of hurdles, hardship and unthinkable grief along this journey. As best friends, we help one another stay in a state of gratitude, and try to not to lose sight of the presence of Grace. No one is spared of the human condition of sorrows. In the words of Nancy's grandfather, John C.H. Wu, "The sorrows are there together with the joy, but they only serve to sweeten the joy.  For the sorrows are the sorrows of the ages; but the joy is the Joy of Eternity!"
(from Beyond East and West, Sheed & Ward, 1951.)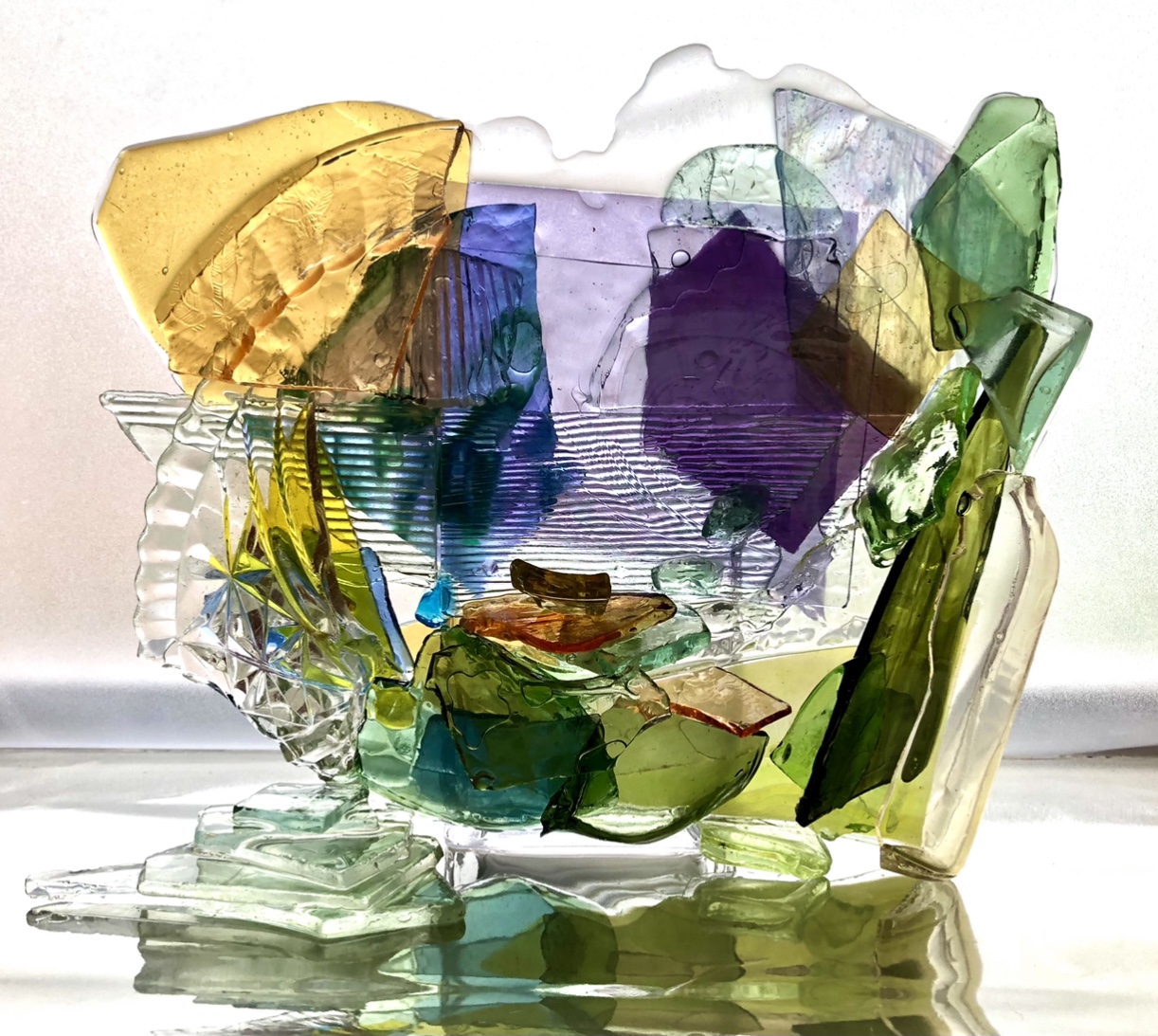 -What makes your process unique?
Perhaps we are more of a philosophy than a studio.  The medium of stained glass has traditionally been reserved and associated with the sacred. However, these profane, fragmented pieces like the discarded and marginalized in this world, need only be brought to Light to realize their full splendor. This is the philosophy of Resurrect Studio: whereby we realize the gift of the sunrise and the preciousness of each day; whereby we have a chance to cultivate the art of life, the most difficult practice to master; whereby we are aware that unto dust we shall return, to find that one day we get dusted off, redeemed, and ultimately brought into the Light.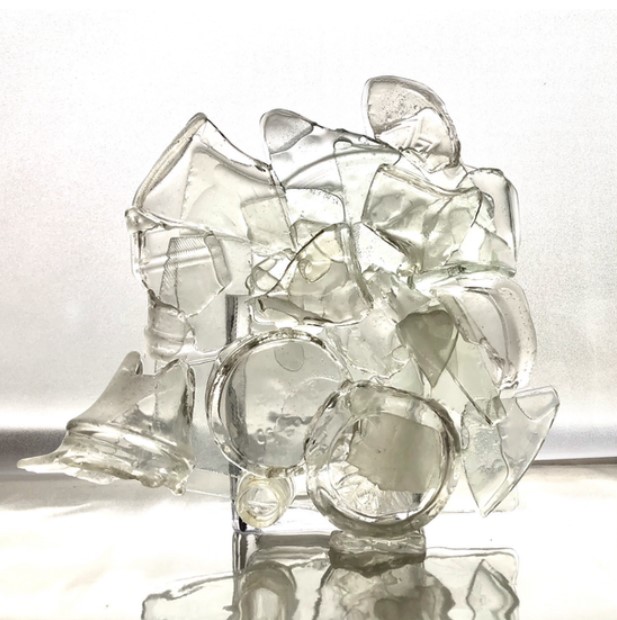 -Is there something you haven't yet achieved in your art?

The moment you think you're supposed to achieve something, the spirit leaves and the ego enters.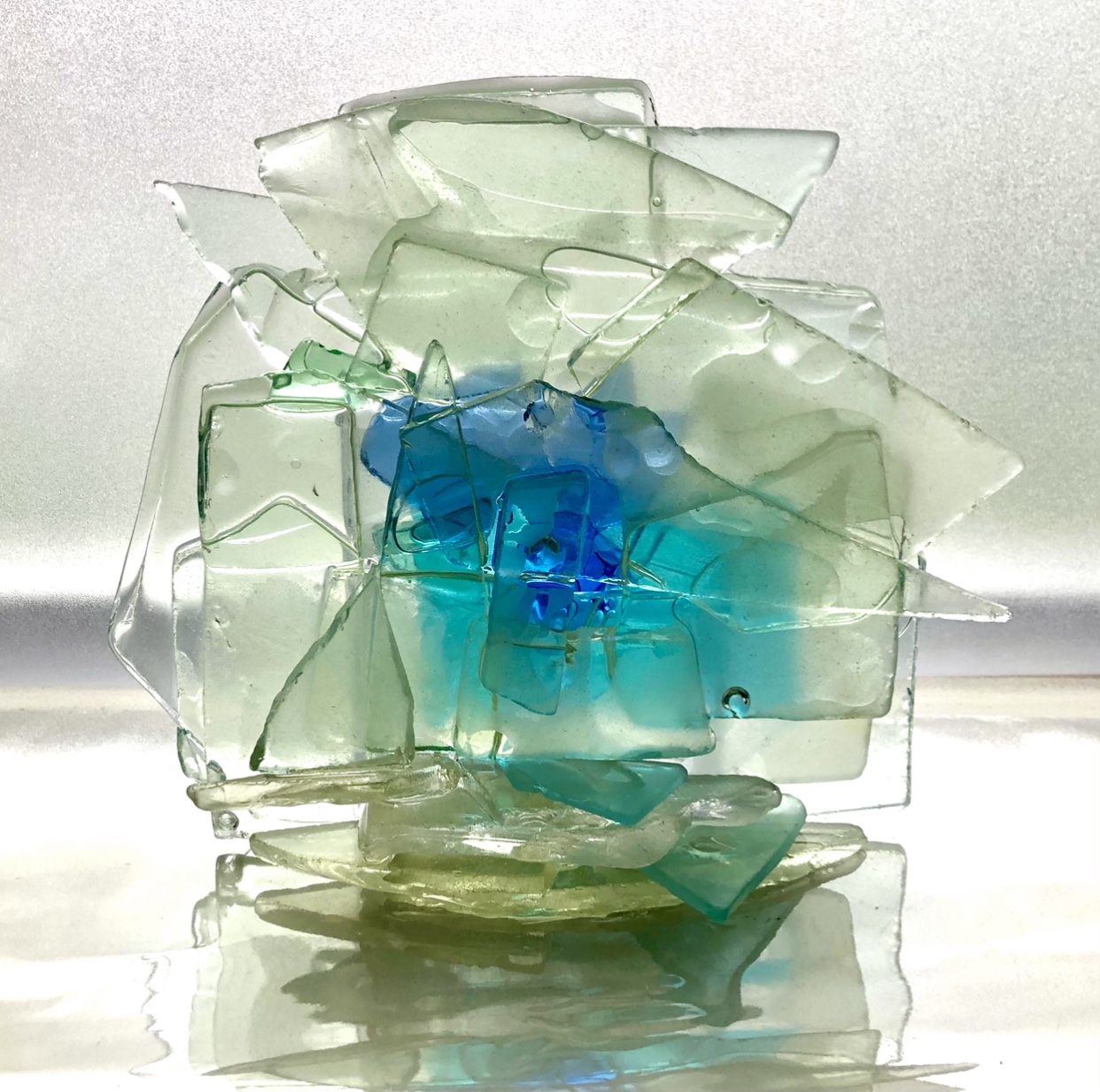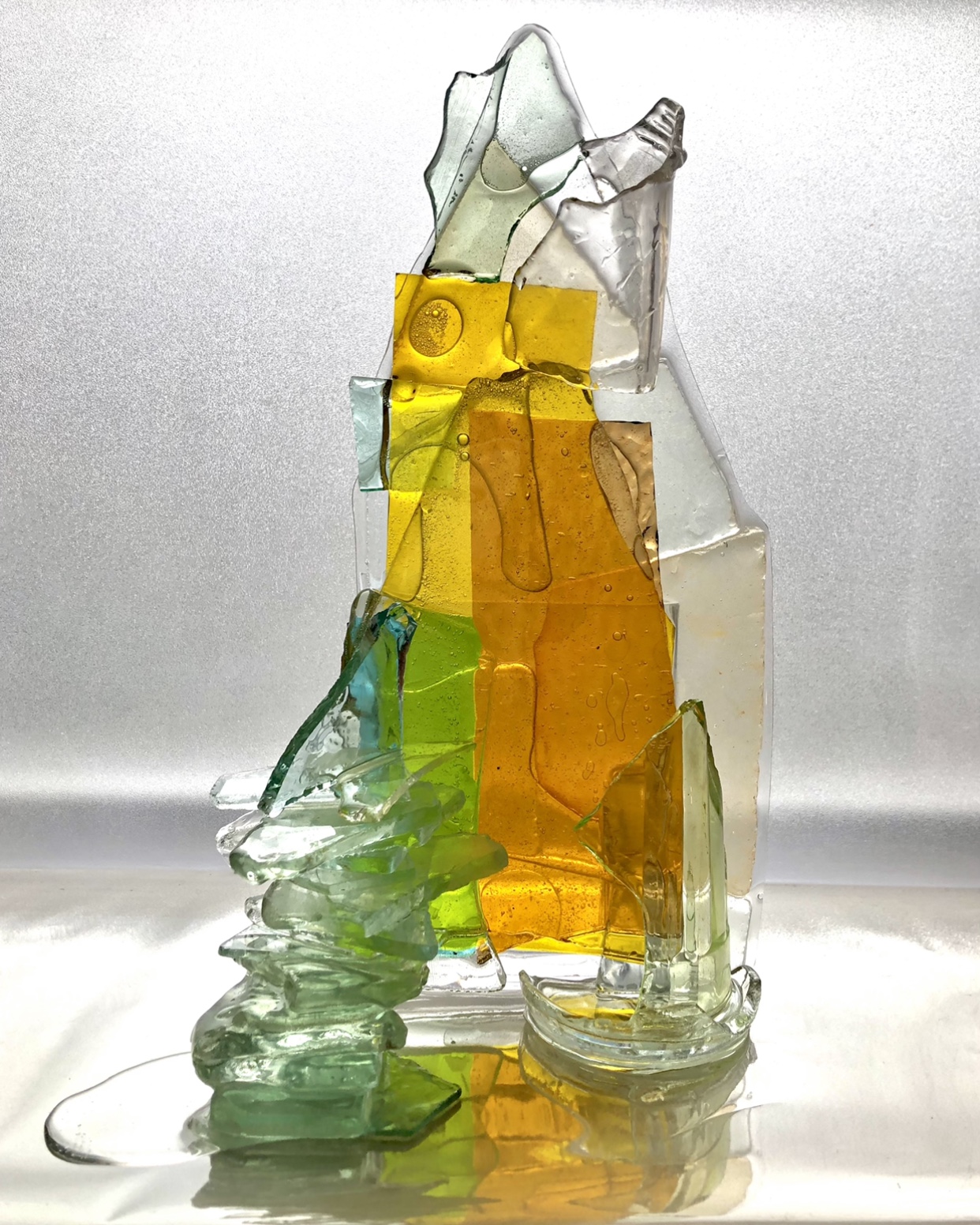 The story of Resurrect Studio is one that has distinct components working in unison to create a whole: There's the art and art making, there's our working in collaboration and there's the space in between.
A few years ago, we two friends and artists began doing art alongside one another. Drawing nature outdoors began our making together - as a sort of parallel play that later evolved into experimenting with the medium of glass. We were learning and sharing ways of bringing stained glass pieces together to form colorful panels – each with a story to tell through a landscape of vibrant shapes.
Unbeknownst to us, a studio became available in late 2020, like a gift from the heavens, where we became more involved in working collaboratively. At the same time, we transitioned into a new form of artmaking involving Garbage and Gemstones. Frequenting a Brooklyn beach, litter strewn and abandoned, remnants from years past including thick, weathered glass pieces emerged at the shore's edge, each time with new colors and shapes, wet and glistening. We collected our favorites, the ones we absolutely loved, just for fun, and later with the idea of adding them to our colorful glass panels. It was unbelievable what unfolded. Glass fragments, each with a unique dimension congealed with resin, became collective pieces in their own right. The shards of transparent colors overlapped and played off each other and later stood upright to become 3-dimensional organisms. The idea that these glass pieces could mimic watercolors and sculpture at the same time was astounding to us! To add to that - time of day, season and location drastically changed the light and, thus, altered each piece as time continued to move by and through them. We fortunately lost some control, and our sculptures became vibrant, luminous and alive!
This aliveness was incredible to experience, not only in the art pieces themselves, but in the energy surrounding and supporting us in the process. There was Nancy, there was Jean, and then there was the space in between. The space in between is what we'd like to highlight and, as we later found, became an essential component to how we worked. It's like straddling two worlds. When we are truly open and receptive, there is an experience that can happen that we refer to as Spirit Force. You are making and creating, but your body is not your own. A space opens and our eyes, hands and movements are driven by something beyond you. For an instant, you leave the material world. In our case, we became instruments that channeled from up above and put out into physical form. The experience is very fast - only seconds - and leaves just as soon as it arrives. Being receptive is essential. If we move away from this opening by thinking, evaluating, critiquing, or Looking too Hard, the art becomes seal tight, sterile and dead. It's not easy to move with this loosening approach. However, we both understand the importance of availing ourselves as a way to both live and create. We honor, hold and reflect this Spirit Force between one another – thus keeping it alive.
Resurrect Studio is not just an art studio but represents a philosophy to live by. We loved the garbage we chose to collect. We picked it up because it happened to glimmer in that moment as we were passing by. These chosen pieces – did we find them? Or did they find us? Broken, discarded, brought together with other shiny bits, and through the Spirit Force, brought up and given light. Perhaps it's a way to think about how to live with one another alongside the trust that we will be carried beyond ourselves. We're talking about the micro elements of a macro way.
Over the last few years, we have made ourselves students of Nancy's grandfather, John C. H. Wu (1899-1986). His philosophy and writings have served to guide us and have become cornerstone for Resurrect Studio.
This passage captures the feeling we hope to attain.
ON THE SPIRIT OF THE MORNING
​
      Good day to Thee, Spirit of the Morning! Once more, I feel like
a boy looking forward to a full day – not a day of leisurely pleasure,
but a day full of absorbing tasks and thrilling enterprises. There is
within me a spontaneous call for effort, a surging willingness to meet
Life halfway, to shake him warmly by the hand.
      "Have done with brooding over your past!" says the Spirit of the
Morning. "Your past is something to be excreted from time to time, if
you are not to suffer from spiritual constipation. Yesterday's bread
does not satisfy the hunger of today. Yesterday's water does not
satisfy your present thirst. Yesterday's inspiration is turned to ashes overnight.
Yesterday's optimism does not help you from falling again
into the Slough of Despond. You can die only once, but life must be
renewed every moment, and everything that is of value to you must
be kept constantly in repair."
      "O sweet Spirit of the Morning!" I answer, "there is tonic in your
words, they are like the rays of sun that give health and strength to
me. O sweet invigorating Spirit, let me imbibe more of thee, let me
kiss and embrace thee, let me praise and worship thee. Teach me,
like a gentle nurse, the songs of childhood. Help me gird up my loins
and live like a man. Drive away my fears that were nursed in
darkness. I had entrusted my life to the whims of Fate; now let me
take it into my own hands once more, and make of it what I like and
what thou wouldst like to see. Let me wear my life like a ring on my
finger, ever ready to give it up, not for all the wealth of the world, but
for a song, the song of love and sacrifice, of innocence and
perfection. To give it not to the first person I meet on the street, but
to an ideal lady conceived and begotten of thee, O mighty Spirit of the
Morning!"
We want to bring this way of thinking to others as a way to live and create, since both are so directly related. In fact, the act of creation is the single most important way to generate faith. It is our hope that others can take this way of thinking and apply it in their own time, in their own place, and in their own way.
Wu, J. C. H (1951). Beyond east and west; pp. 209-210, New York: Sheed & Ward Inc.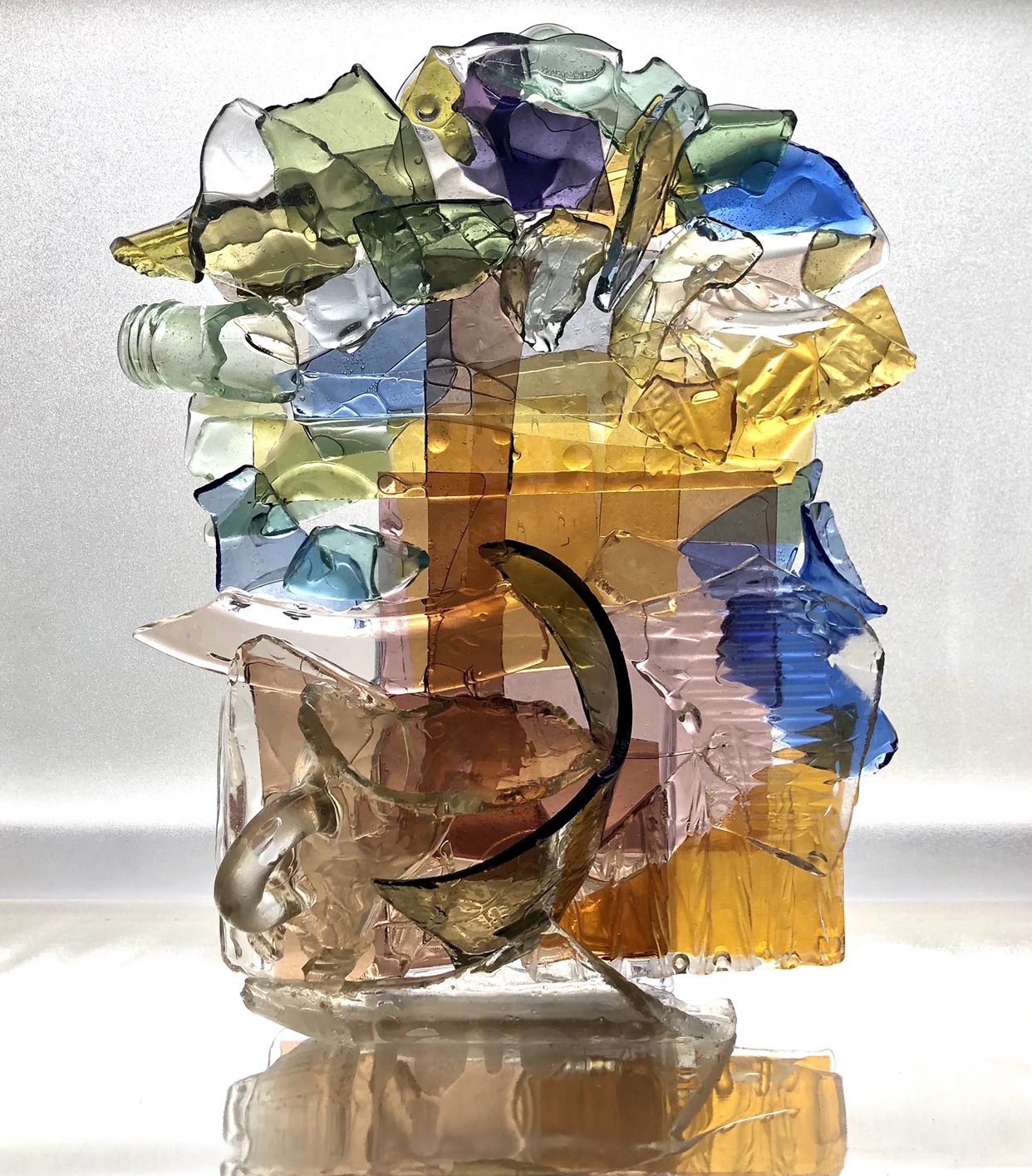 Jean Davis
For Jean Davis, making art is essential to her being. A whimsical drawn line or a slap of paint in the center of a canvas, and the world instantly begins expanding. She believes that how one makes art is how they live in the world. Jean is an Artist and Art Therapist and combines both sensibilities equally.
Jean's passion for art began as a young child when long summer days bled into each other, allowing her unending time to meander, play and make things. During adolescence, when life circumstances became challenging and then devastating, making art provided an escape and at the same time, a way forward. For college, she studied at the School of Visual Arts in NYC and after was employed in a commercial art setting. That experience having quickly proved unsatisfying, she discovered the discipline of art therapy and gained clarity about the powerful practice of healing through art. She enrolled and thrived in the Creative Arts Therapy Graduate Program at Pratt Institute, and has since served as an art therapist and administrative leader in numerous social service settings as well as a professor in the Pratt program in which she was trained. She has also continuously maintained a private therapy practice in Brooklyn.
When Jean was director of a homeless shelter for women coping with mental illness, she was fortunate to meet and soon after marry Danny Rosenthal, who was employed at the same social service agency. More than 20 years later, they manage a full life of work, play and parenting three daughters: Leah, Naomi and Simone.
Recently, Jean's passion for personal art-making has been ignited. Over the last few years, her collaboration with artist Nancy Wu and their mutual language of expression has led to a heightened consciousness about the immeasurable value of the artistic process. The friendship with Nancy and later, the birth of Resurrect Studio in early 2021, allowed a new chapter to be born and its ever-evolving philosophy has offered a new construct for thinking about the art of creation in a far more expansive way.
​
Nancy Wu
Nancy insists her first move is still her best.  She chose her parents well, growing up in a mixed-race family of 6 kids with 51 first and 83 second cousins, and 13 sets of aunts and uncles.  Every major religion is now represented within her family through marriage, boasting a breadth of professions so expansive that there is a midwife and a mortician; someone to escort you in, and someone to escort you out. 
Her love languages include the challenge of cooking for whoever comes to dinner, wrapping presents, sharing in the cool blues and calming greens of nature, riding bike no-place-special for no-good-reason, chocolate and coffee, feel-good music, hot-n-sour soup and big hugs.  An English major with a Masters in Architecture, Nancy worked in NYC as an architectural designer.  She is most fond of working in the trenches of the creative process getting things built with talented and spirited teams of tradespeople who in spite of daily set-backs and gritty challenges, manifest inventive solutions thus finding a way to enjoy the ride.
She married architect Bob Henry.   They have three children, Zane, Bo and Chloe.  Nancy started making art recently to overcome the trauma surrounding the death of Chloe who at 13½ passed from altitude sickness while on a family trip to China in Aug 2016.  In a flash, everything changed.  Witnessing Chloe's soul being released like a bird of passage in the direction of Home, what mother or father would not find a way to climb over the Himalayas if they knew their child was on the other side?  Shaking a fist at God only begat more and more grief.  
Few are as skilled in the art of Life as Jean Davis, who has the capability of joining people in not only their most difficult of places, but manages to do so with a heart of Love.  Linked together by their daughters who remain besties, Nancy and Jean befriended a week before the China trip and have been in spiritual lockstep ever since.  Resurrect Studio has heaven to thank.