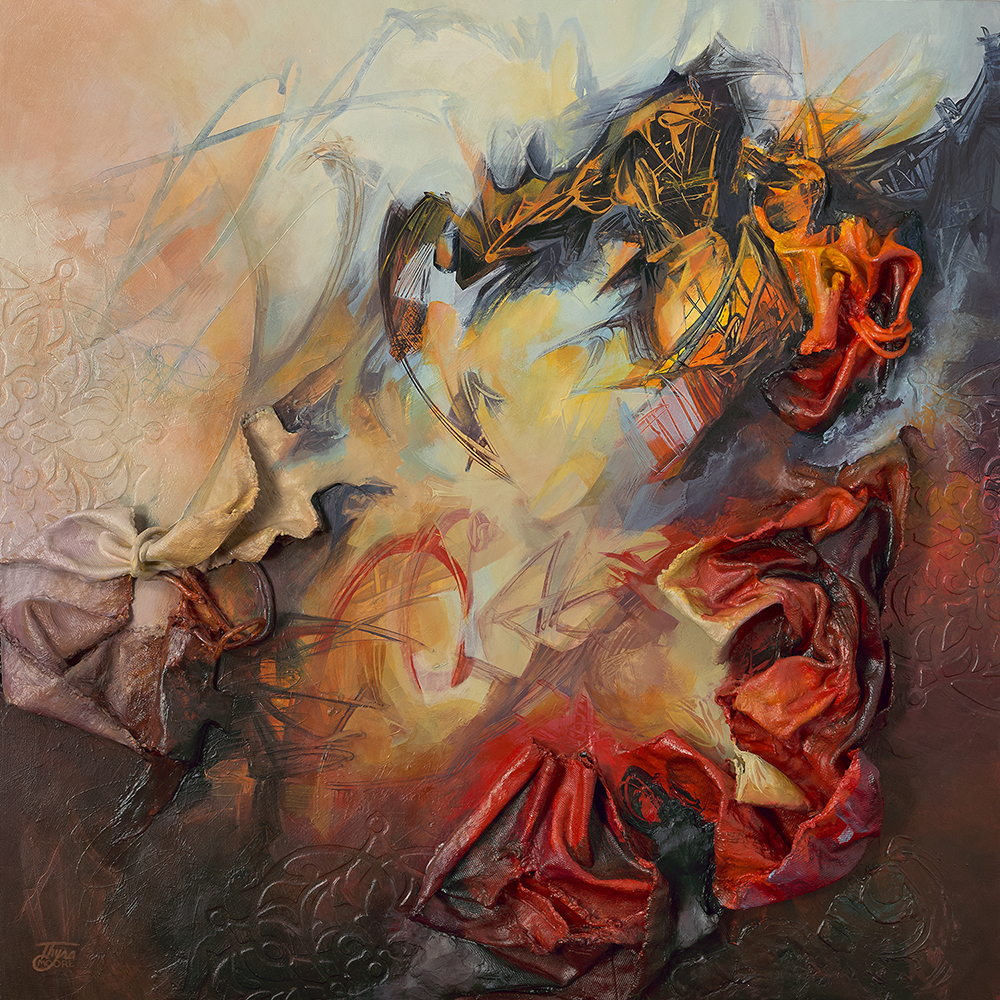 -Thyra, we'd love to hear your story and how you got to where you are today, both personally and as an artist.
Growing up, I was surrounded by art, thanks to my mother, who was a gifted painter. Despite working as a pharmacist full-time, she produced stunning artwork in a variety of water media, sharing a profound respect and interest in art. From a very early age, my creative endeavors were always encouraged and supported.

While in college, I was fascinated by the gouache paintings of my professor, Roger Anliker. His careful consideration of details, design, and color impressed me greatly. Even though I was a graphics major, I took as many painting and drawing classes as I could because that's where my true heart was.

After graduation, I launched a meaningful advertising career, ultimately establishing my own agency. Though I had little time for personal creative pursuits, my passion for gouache and still lifes remained. It wasn't until after I closed the business that I could follow my heart and begin to fully investigate my creative potential.

As part of this creative exploration, and completely by accident, I participated in a weeklong workshop on abstraction, and it ignited a new direction for me. As I delved deeply into abstract painting using water media, the constraints of gouache became evident, prompting a move to acrylics. This shift allowed me to explore many new possibilities including mixed media. Everything came together as I combined my longtime fascination with surface texture, pattern, color, and dimensional form.

Another turning point in my artistic journey came with the arrival of our newly rescued dog, who had quite the penchant for destruction. This, combined with my fascination for repurposing items, sparked a unique creative process. As our canine companion tore through various objects, I discovered the opportunity to breathe new life into them, incorporating these unconventional materials into my art.

It is my nature to continue to explore and push artistic boundaries and follow my creative instincts to see where they will take me.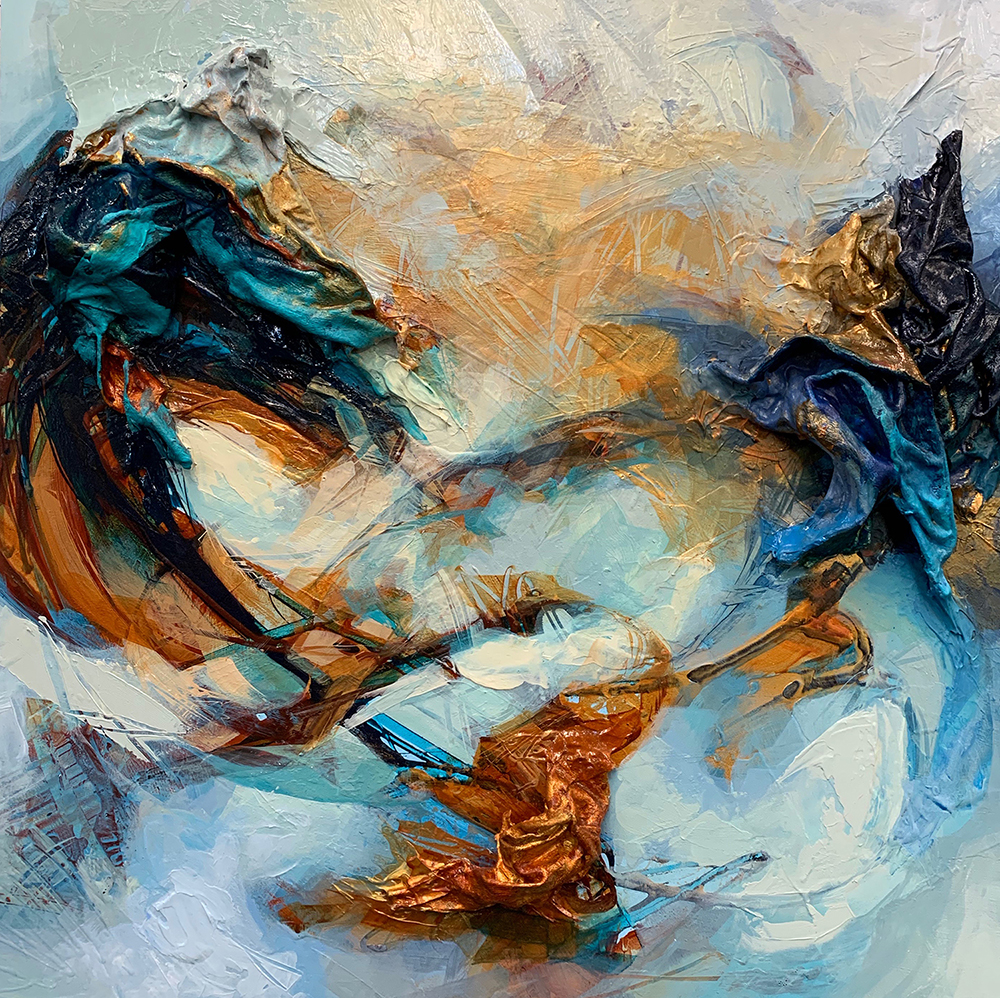 -How do you balance the aesthetics of your art with the use of recycled materials? 
In my artistic practice, I strive to harmoniously balance aesthetics and the utilization of recycled materials. While the initial inspiration for adding dimension stemmed from a particular item, my creative process has evolved to prioritize texture, pattern, and movement that the materials can provide. The application of paint on top of these materials further unifies the entire piece, emphasizing its cohesive visual language rather than the individual components. 

My primary objective is to create captivating artwork that effectively communicates the intended emotion, movement, and purpose. The incorporation of upcycled elements not only serves to enhance and strengthen the concept but also adds a unique and eco-conscious layer to my work.

Composition remains a pivotal aspect of my creative process, guiding the integration of recycled materials in a manner that complements the overall visual appeal.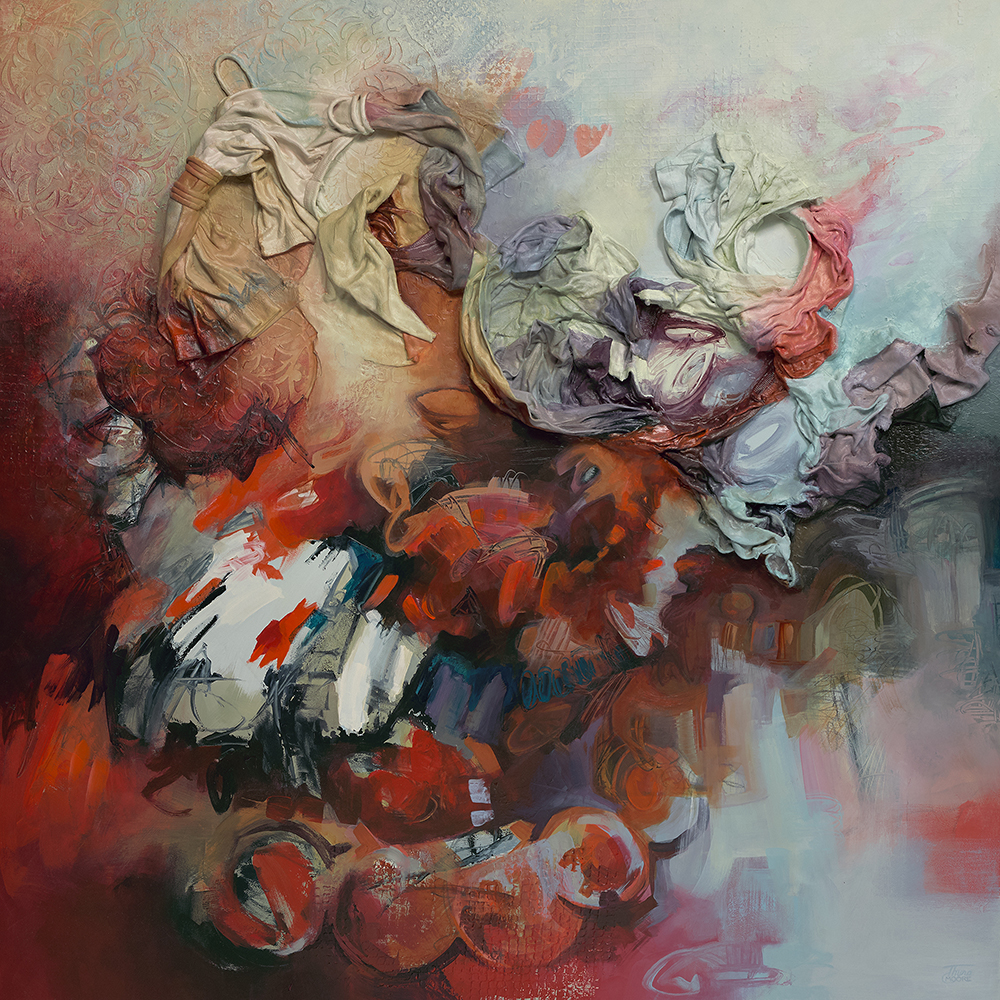 -How do you select the items that you incorporate into your artwork?
When selecting items to incorporate into my artwork, I primarily consider their ability to contribute to the desired movement, shapes, and overall visual impact. My intention is for viewers to focus on the collective image and effect, rather than the specific materials used. In addition, I pay close attention to the stability and durability of the chosen materials, ensuring that my art can not only withstand shipping and remain intact but also to last for generations to come. To achieve longevity and prevent degradation, I seal all items and I exclusively use professional artist paints, mediums, adhesives, and varnishes in my work.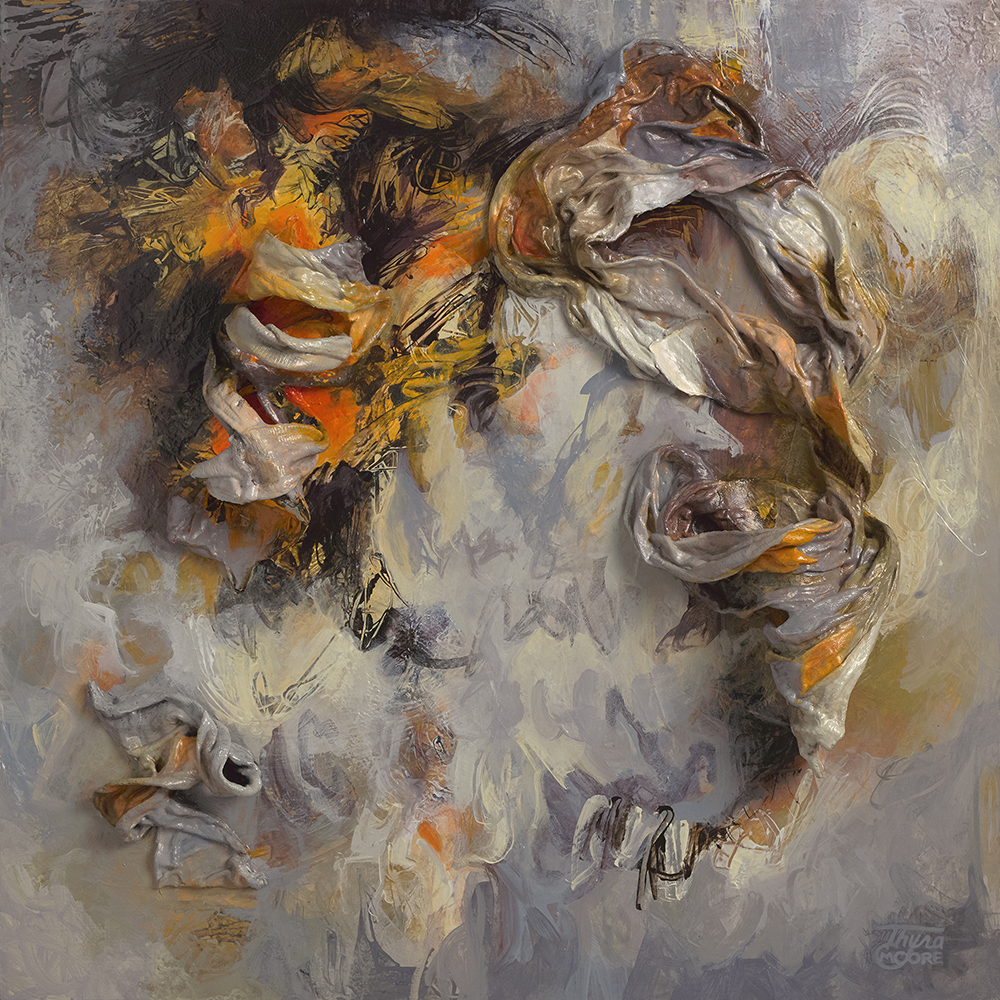 -What role does color play in your work?
I enjoy making art that calls you to look at it. Color plays an integral role in my artwork, often asserting its presence even when I initially attempt to downplay it. I've come to appreciate the profound connection between color and emotion, and how it can enhance the expression and impact of my art.

As an artist, I'm aware of the myriad of aspects of color that go beyond just the hue itself. Factors such as intensity, value, warm versus cool, and neutral versus intense all contribute to the overall impression of a piece. These nuances offer endless possibilities and challenges that make the creative process all the more exciting and engaging. In a sense, color is an infinite playground for me, where I can continually explore and experiment with its endless variations, combinations and results.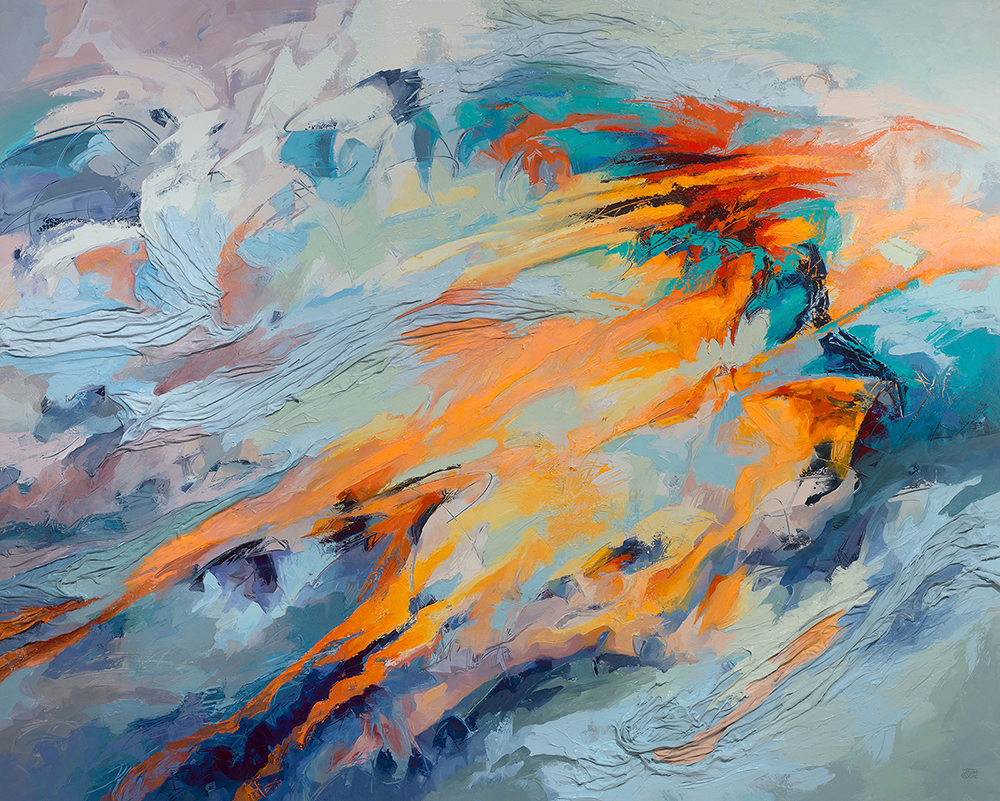 -What's the best way for someone to check out your work and provide support?
The most ideal way to truly appreciate my artwork is to experience it in person, either in galleries or by visiting my studio. This allows one to fully engage with the subtleties and dimensions of each piece that may not be as evident through digital mediums.

However, I also maintain an online presence to make my work accessible to a wider audience. You can explore my portfolio and stay updated on my latest creations through my website, www.thyrafineartistry.com. 

Additionally, you can follow and support my artistic journey on various social media platforms, including:
Instagram www.instagram.com/thyramooreartist
Facebook www.facebook.com/ThyraFineArtistry
LinkedIn www.linkedin.com/in/thyramoorefineartist
Pinterest www.pinterest.com/ThyraMooreArt

And you could sign up for email notifications of new work and other benefits for VIPs at www.thyraart.com

By connecting with me, you can help spread the word about my art and contribute to its exposure and recognition.
I am intrigued by the complexity of life with its many dimensions, multiple layers, frequent changes and continual evolution. Full of stories, events, and experiences, I see life as a positive energy that I then translate into color, texture
and yes, dimension.
My creative process involves recurring development and destruction. Without a preconceived plan, each action informs the next. There is a continual exchange between spontaneous and deliberate moves. The primary theme is an evolution from adversity to optimism. I revive assorted items unified by circumstances of hardship – being worn out, almost destroyed or no longer wanted. During development, these once abandoned items are transformed to emerge as an integral part of each painting.
Ultimately each painting comes to life revealing a sense of lyrical movement ready to add drama to your decor.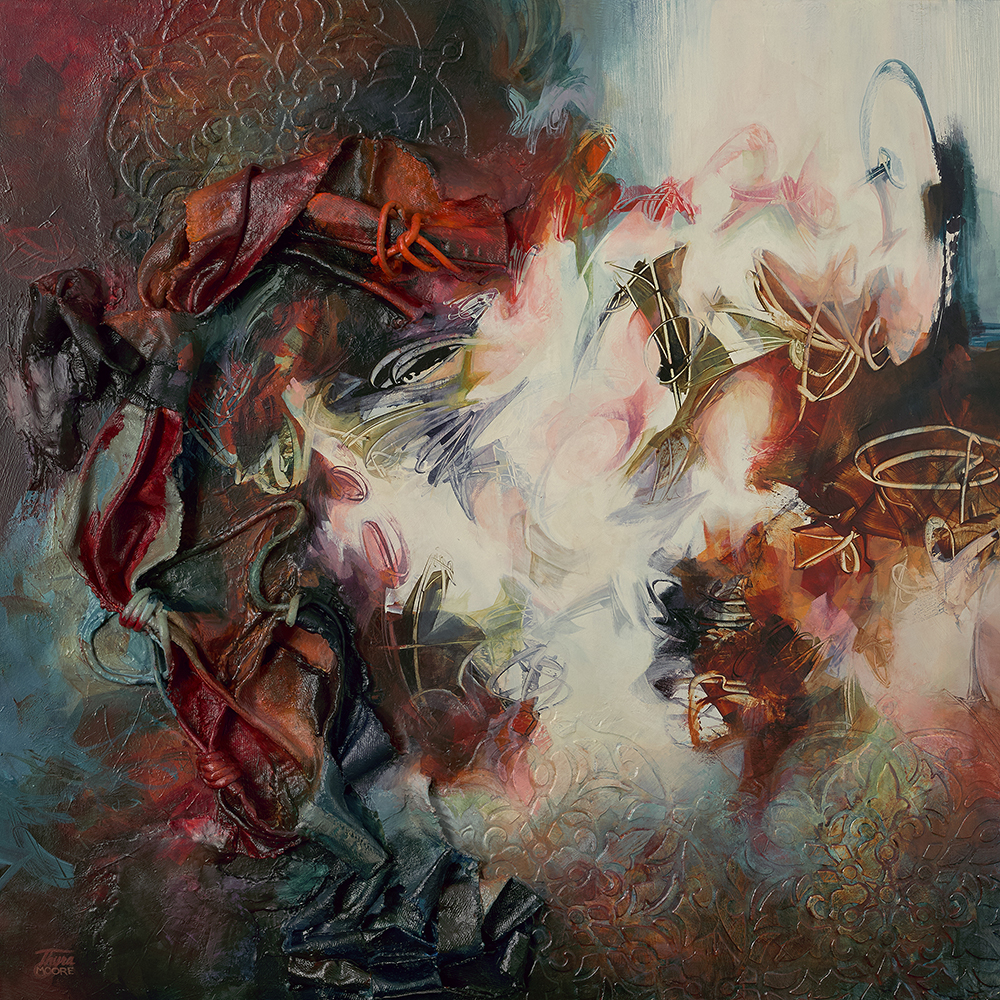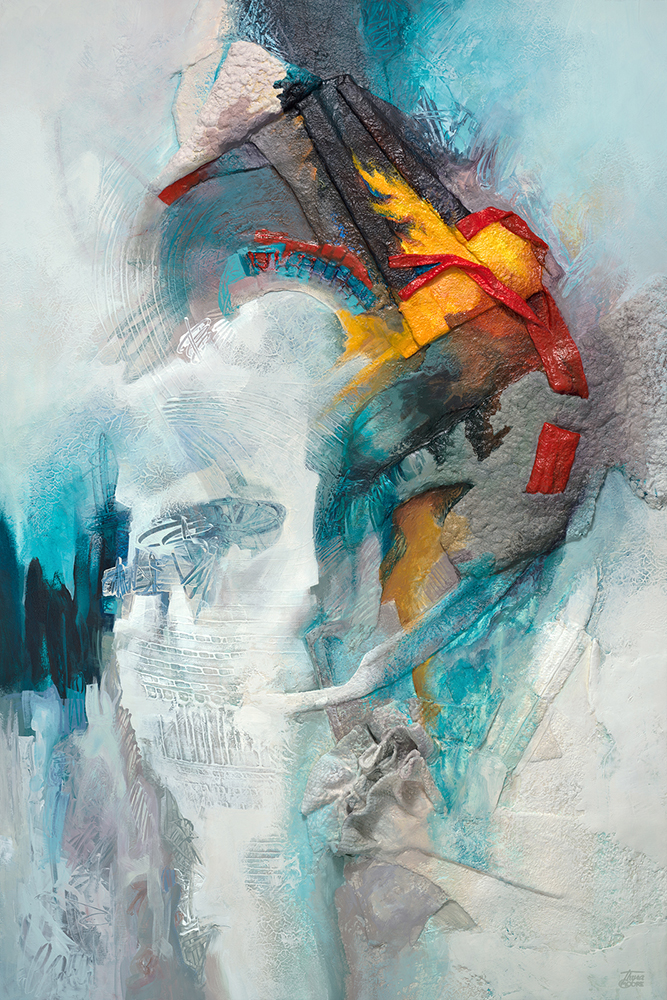 An intriguing combination of textures, predominantly warm colors and a variety of materials playfully dance during in the development of each piece of Thyra's art. Materials are separated from their intended purpose then converted to become an integral part of each painting.
Thyra traces her current creative style back to a serendipitous event that led her to reinvent her process and her art. That event was a rambunctious rescue dog named Xena. As Thyra explained, "With a grabby and destructive attitude, Xena ruined many items of clothing, bedding, toys, you name it. In trying to find the positive in Xena's ruinous nature, the destroyed items were resurrected to became integral parts of new creations."
Thyra connected with how this transition from adversity to optimism represents cycles in life. In this case, her destructive rescue dog had been thrown away yet, with a bit of effort, was renewed to a wonderful family member. She described, "Throughout life, everyone experiences hardships of some kind. How these hardships are handled, reframed, repositioned, repurposed determines the next chapters in life."
It wasn't always all about abstracts. There was a time that Ms. Moore was, at that crossroads in her life. She had a Bachelors of Fine Arts (BFA) from the renowned Tyler School of Art in Pennsylvania. She had created and grown a successful advertising agency. She loved developing strategies and promotions that really made a difference to her clients. Yet, in spite of the successes and awards, Thyra needed to be somewhere else.
"Many people with similar yearnings and circumstances might get a convertible and take off for parts unknown," said Thyra Moore. "I wanted – no, I needed to paint.
As a result, she went back to her roots and began painting with gouache. A move to Maryland with its boats, birds and water served as a further inspiration. "I abandoned the commercial world I had lived in for so long, and dove head first into the liberating pool of creative expression," she explained.
Thyra fully immersed herself, joining watercolor societies, taking workshops, and entering juried shows. After acceptance into numerous juried shows, Thyra Moore achieved Signature status at the Baltimore Watercolor Society, and had a piece accepted into a National Watercolor Society show. Yet, it was not satisfying.
"I was not creatively free enough. With watercolor and gouache, I was meticulous and precise. I used sketches, masking, pouring, and a rigid path to the finished piece. The entire process was too 'left brain' for me. My history and my training for the commercial world continued to shackle me. I needed to loosen up. I needed the freedom to express more emotion and passion. Ultimately I needed to allow myself to respond in real time as the painting evolved. I wanted the adventure of entering into a painting not knowing where it would lead," she stated emphatically.
Challenged by her new insights and artistic opportunities, Thyra explored a different medium, "With acrylics I have the freedom to experience each step and stage of my art," she said. "I can react with little or no preplanned outcome, and take full advantage of the evolutionary process that's hidden within each creative challenge." Thyra continued, "I've come to see life as an evolution of adversity to optimism. A process of destruction that leads to creation. A way to turn negatives into positives. For me, this process creates unlimited opportunities to discover each painting's true essence as it evolves in front of me.".
Thyra's work is in private collections and appears in numerous juried shows. Thyra won Best of Show at a juried show at District Arts gallery and First Place in the 37th Annual Faber Birren National Color Award Show in addition to other prizes in other juried shows. Her work can be seen on her website www.ThyraFineArt.com. Frankly, the true depth, dimensionality, and impact of Thyra Moore's work can best be appreciated in person.
​