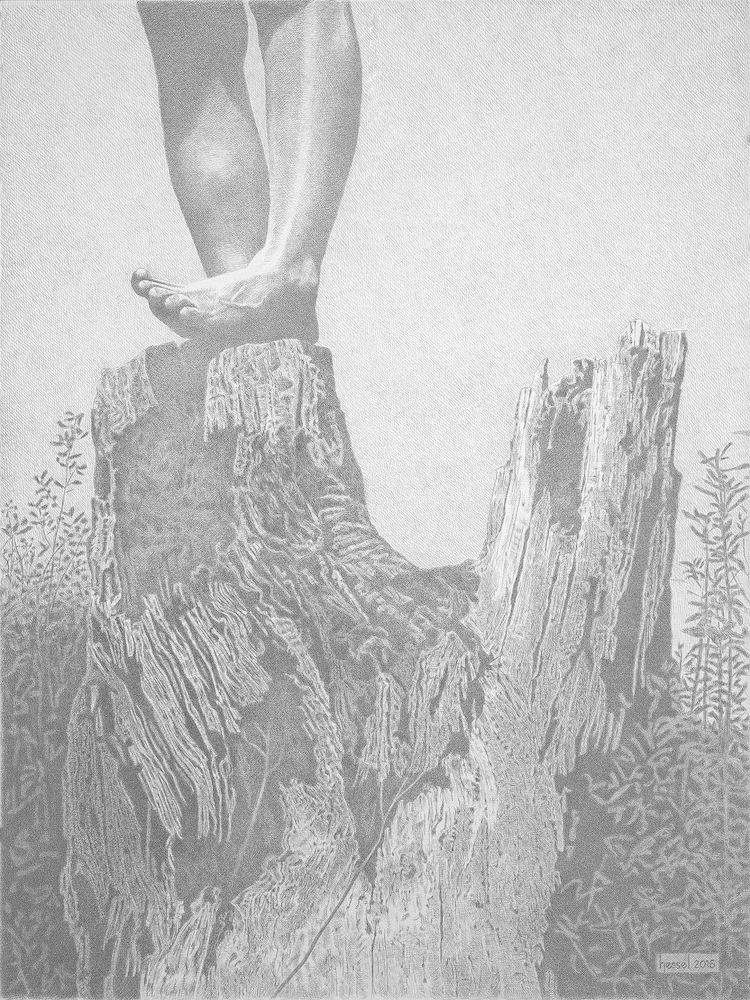 The Persistence of Life, silverpoint drawing
-Tom, we'd love to hear your story and how you got to where you are today, both personally and as an artist.
I started drawing at a very young age. When I was around five years old, or so, I would often spend the day at my grandmother's house. She would set me up at her kitchen table with a #2 pencil and a sheet of wrapping paper she'd saved from the butcher shop and I would draw from the Comics section of the newspaper. Sometimes I would also attempt to draw photos from the newspaper or magazines. I really enjoyed doing this and I seemed to have a knack for it, so I kept it up. I took every art course that was available to me as I made my way through elementary and high school. When I decided that the visual arts would always be a part of my life, I went on to receive a BA degree in Studio Arts and a Master's degree in Creative Photography.
To help pay my way through school, I worked as the staff artist for the local newspaper. I was given a lot of freedom and I worked closely with the writers and editors to provide artwork for all sorts of stories. I worked on a special tabloid addition to the newspaper that highlighted the Community Leaders of our city, ie. Fire Chief, Police Chief, Mayor, City Engineer, etc. I did a full page illustration of each person to accompany their story. During this time, I had the opportunity to be the courtroom artist at a murder trial and my drawings appeared in the newspaper along with the articles about the trial. My time at the newspaper proved to be invaluable to me as an artist.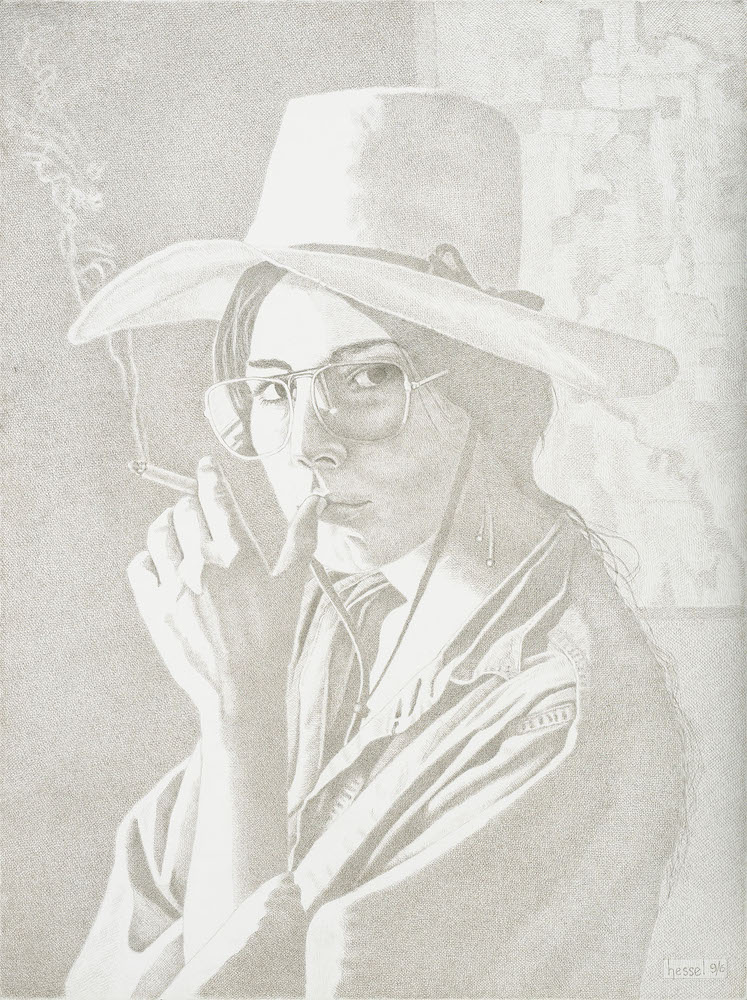 Vicki - Evening Shadows, silverpoint drawing
-Can you talk about the challenges and rewards of working with silverpoint? What distinguishes it from other drawing materials like graphite or charcoal?
I've worked in several different medias, but I've worked most extensively in graphite and silverpoint drawing. One of the benefits of working in graphite or charcoal is the ability to get very dark tones that can create dramatic contrasts in the drawing. This is not possible when drawing in silver, because of the limitations of the silver wire, so I need something else to capture the viewer's interest. I need some other way to bring the viewer closer to the drawing, so they can see the details and discover the story behind the image.
One of my drawings, Evening Shadows, would be an example of getting the viewer to take a closer look. This piece won the Best of Show Award in an exhibit and when the judge was explaining her thought process for selecting the awards, she commented that the expression on the woman's face kept getting her attention from across the room. So, she had to go over and take a closer look. She was intrigued by the details in the drawing, so she went online to look up silverpoint and was impressed at the amount of time and effort required to draw in silverpoint.
For all of the challenges, there are also rewards for taking the time and effort to draw in silverpoint. One of the rewards is the warm patina that the drawing acquires, over time, as the silver oxidizes. Also, I've been able to achieve fine details and a richness of tone as I developed my technique for drawing in silver.
(Also see Silverpoint Drawing Process below for more information.)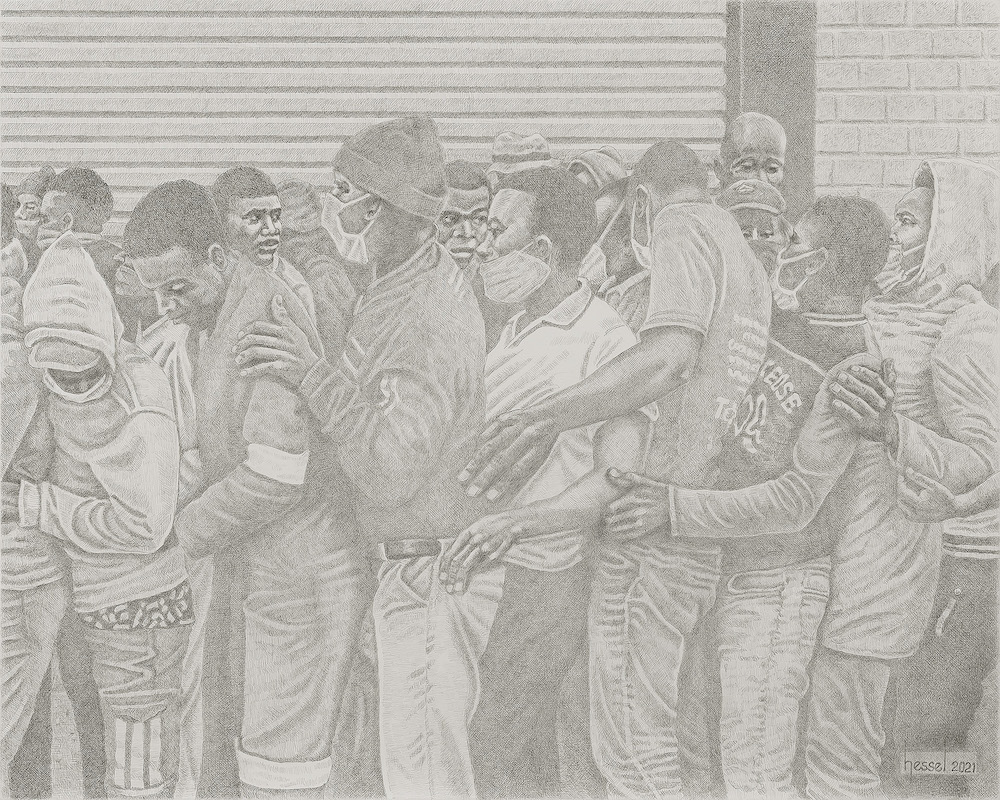 Lining Up, silverpoint drawing
-Over time the silver color changes to a warm brown due to oxidation. How do you feel about the evolving nature of your work and does this factor into your creative process?
As I state above, I love the warm patina the drawing acquires over time and it does figure very strongly into my creative process. I discovered Silverpoint in an old book of Drawing Techniques while I was in college and I had no idea how the oxidation process would effect the drawing. I was simply intrigued, so I decided to try it. When the silver is first laid down, it appears a shiny gray and, in my opinion, rather bland. However, the warm patina, that I've been talking about, is very rich and pleasant and It's one of the reasons that I continue to create in silverpoint.
Silverpoint Drawing Process
A silverpoint drawing, put very simply, is a drawing that is done in pure silver. The tool I use to draw the image consists of a piece of 22 gauge sterling silver wire inserted into a mechanical pencil. A smooth, hard surface is required for the silver to leave a mark. I use a piece of masonite board, painted with several coats of gesso and sanded until it is smooth and hard enough for the silver to leave a mark.
In order to produce the various shades within the image, I use a technique of overlapping rows of hash marks called cross-hatching. The more layers of cross hatched marks, the darker the shade will appear. These marks can be seen if you look very closely at the drawing.
Silverpoint drawing can be very unforgiving and it is nearly impossible to make corrections. Once the silver is applied to the surface, the marks cannot be easily changed or removed.
In time, as the silver oxidizes, the drawing will acquire a rich, warm patina. Although this drawing process can be tedious and time consuming, I think the unique appearance of each of the drawings is well worth it.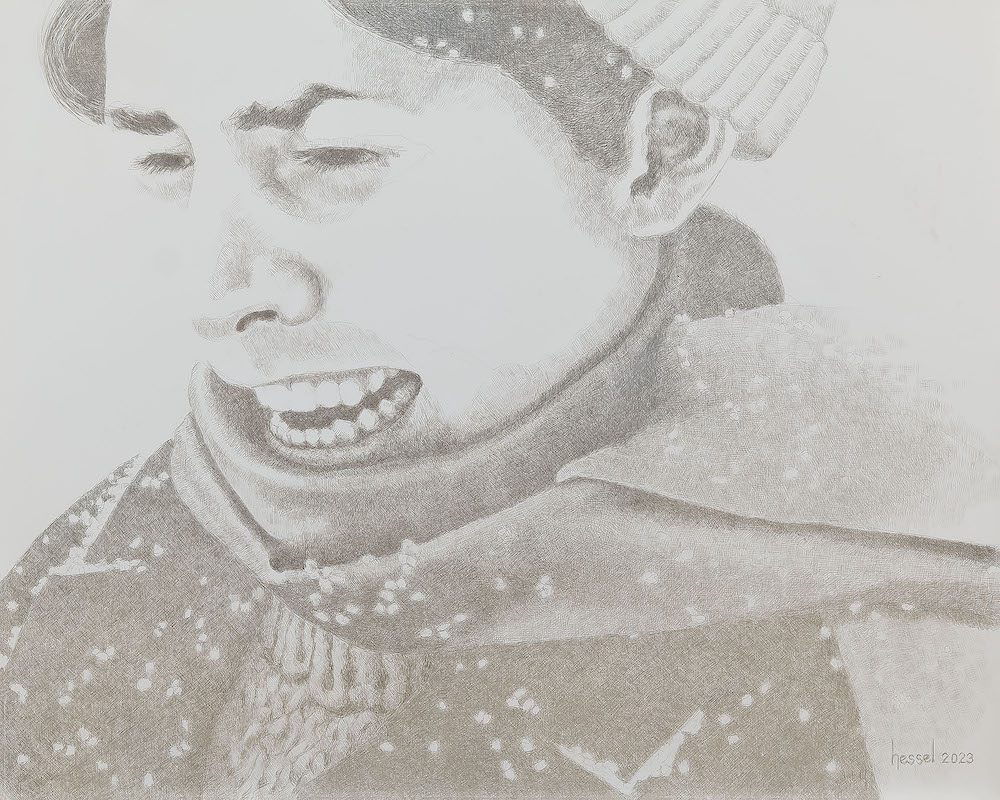 A Blustery Day, silverpoint drawing
-Your artwork beautifully portrays the character and dignity of the individuals you depict. How do you go about achieving this in your artwork?
I've had several different occupations in my life and I've been fortunate to be able to travel around. This has given me the opportunity to meet people from very different walks of life. I am always fascinated by their unique personalities and their individual stories. I'm always interested in what makes them tick…what do they think about… what excites them and what do they fear…where did they come from and what's happening with them now? I've done a lot of portraits and I always try to present something more than a likeness, perhaps a look or expression that is totally their own. Or, it could be something they're doing or reacting to right at that moment.
This is one of the reasons I decided to do my graduate work in Creative Photography. In order to capture "the moment" on film and then use it later in my artwork. I might combine several photos into one piece or I might take a single photo image and use other elements around or within it. When I have an image that inspires me to create a piece of art, the process begins. There's always an idea in my mind of what I want to achieve with the final image. If I can create the image as I originally envisioned it, I'm successful. Sometimes, however, as the image takes shape through the drawing process, it becomes a bit more then my original idea and takes on a quality of it's own that is universal or timeless.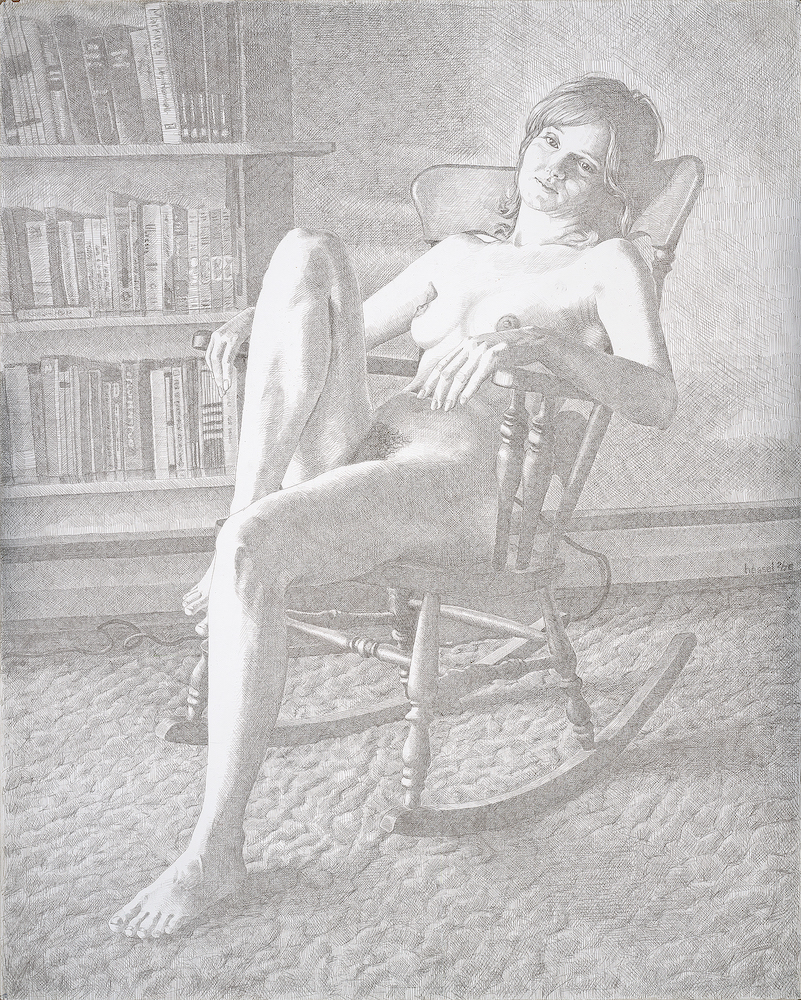 Early Light, silverpoint drawing
For instance, the idea for the drawing Early Light began as a simple study of a nude by morning sunlight, which it is, of course. However, the "something more", that I referred to above, is the result of using delicate strokes of the silver and large areas of white space to describe her body, the relaxed, languid, pose of her limbs and the glow on her face, as she seems to be just awakening. All these things could refer to the "early light" of the title, not just the morning sun.
-What's the best way for someone to check out your work and provide support?
I'm hoping that I left you wanting more, as they say. Because, you can find a lot more on my website. Most of my life, as an artist, is there, except for some commissioned portraits and pieces that were sold before I had the presence of mind to scan them. There is a tab for my drawings in graphite, so you can see the rich darks and dramatic contrasts that I spoke of earlier. There is a tab to view some of my work in other media and a tab to see some of my original photos. You will also find some of my history as an artist, some of the awards that I have won and my contact information. Please feel free to contact me if you have questions about my artwork, or if you would like to commission me to do a portrait for you, or if you just want to talk. I would love to hear from you.
The subjects of my images are almost always people. I believe it's those other souls we encounter during our lives that make it more interesting and enriched. My intent is to capture some of the character and dignity that is a part of every person. We all have our individual hopes and dreams and we each find our own path to self-expression. It's these personal aspects of our humanity that I try to convey with my art.
It could be said that I do portraits and that would be accurate. However, I try to create something more than a likeness. I try to show something about that individual's personality, or perhaps capture a feeling of their situation at that particular moment in time. When I'm successful, the viewer is able to connect with the image in some way, without actually knowing the subject.
The purpose behind all of my images is to instill in the viewer a feeling that goes beyond the subject matter. My goal is to create something within the image that is universal and timeless.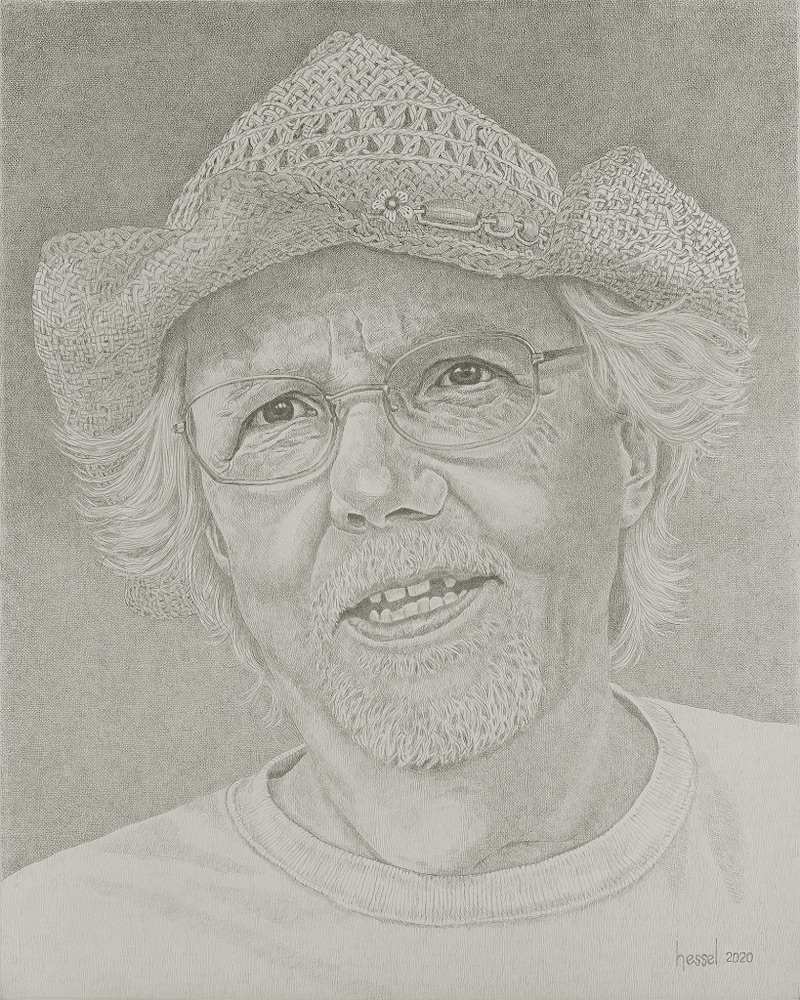 Butch, silverpoint drawing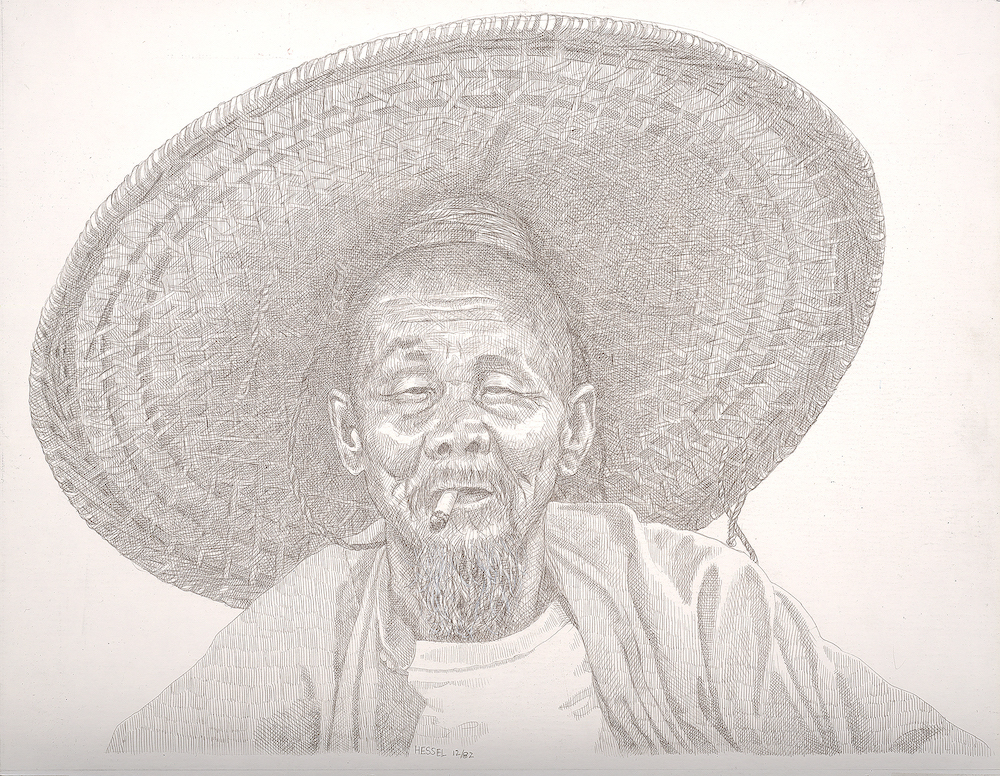 Eastern Man, silverpoint drawing
Tom decided at a very early age to pursue some type of vocation in the field of visual arts. During elementary and high school, he took every art class that was offered and studied from several books on drawing. In 1970 he received a BFA degree in Studio Arts from Loras College, Dubuque, IA and in 1972 he did post-graduate study in Creative Photography from the University of Iowa, Iowa City, IA.
He worked as the Staff Artist for the Telegraph Herald Newspaper in Dubuque, IA and as an Art Director for Associated Litho Printing Company in Minneapolis, MN. He has taught Adult Education classes in Drawing and has also been commissioned to do many portraits over the years.
Tom has been active at the Hopkins Center for the Arts and was instrumental in it's creation in 1998. He was the President and one of the Charter Members of the Hopkin's Area Arts Association, which was responsible for programing at the HCA during it's first five years.
He's, also, exhibited at and been active as a member of several local arts organizations and galleries, including, The Minnetonka Center for the Arts, The Minnesota Artist's Association, The White Bear Lake Center for the Arts and Artistry Gallery, among others.
Tom has been living and creating his artwork in his home-studio in Minnetonka, MN for 45 years. His work has been exhibited locally, nationally and internationally and he has won several awards in these exhibits, including First Place and Best of Show.